As you put together your shopping list this season, don't forget about a gift for the one person who is always there for you. They're furry. They're fabulous. And they fa-la-la-la-love to be spoiled.We're talking about your cat, in case you hadn't caught on.At Skoon, we specialize in cat litter delivery. We're like the Santa of the no dust cat litter world. So, who better to offer up a few glorious gift ideas for your favorite feline than us?Here are our top three.
A Beautiful Bed
The only place as important to a cat as where they go to the bathroom is where the go to sleep. Now, we know what you're thinking. "Why should I buy my cat a bed when they have claimed MY entire bed as their own already?"That's why.The only way you'll ever reclaim your bed (or couch, or chest, or windowsill) is to offer His Royal Highness Mr. Fluffy Face a better place to snooze.The good news is that there is a perfect cat bed for even the pickiest cat bed connoisseur.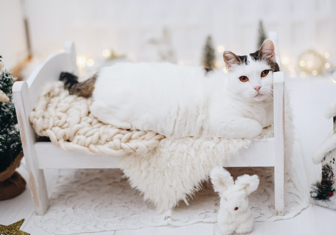 If your cat embraces heights and wishes to sleep far above everyone else — matching how they view themselves, of course — consider gifting them a powerful perch. Towers are trendy, and they give you the flexibility to offer your cat several places to rest after a long day of ruling the roost.On Monday, they may prefer a hammock-style sling. On Tuesday, it might be time to tunnel in. And Wednesday, they could box out the rest of the world. And then repeat!If your kitty is more comfortable on a cushion, you can never go wrong with a pillow plush. There are so many styles and colors to choose from that you will no doubt find the pillow to compliment your cat's personality. Take it upscale with memory foam or goose feather stuffing, and add a personal touch by embroidering your cat's name in the fabric.For those of you that live in a chilly climate or just have a roommate who likes to keep the thermostat down low, check out this season's heated cat beds.These beds resemble a fabric plush, but they feature a small, built-in radiator that keep the bed warm. The radiator is covered by fabric to protect your cat from burns, so have no fear. We do offer this word of caution: once your cat goes heated, they may never go back.
A Cute Collar
A collar is a way your cat can express their personality every single day. They also serve an important function. If your kitty ever gets lost, their collar and tags can help them get safely back home to you.So, say goodbye to drab materials and embrace bright colors, patterns and bling!As you shop for the collar that speaks to you, you'll also discover that there are ample opportunities for personalization. Want to bedazzle your cat's name in the collar? Do it. Ready to create a custom tag with your cat's favorite joke? Why not! The world is your canvas — and your collar.
A Luxurious Litter
Skoon kitty litter is a gift that benefits both you and your cat. Our hypoallergenic cat litter is odor-free, low-dust and delivered to your door like clockwork. You only have to read a few Skoon cat litter reviews to see the light at the end of your litter search tunnel.Help your cat kick-off the holiday season with a better bathroom, and never have to shop for litter again.