How To Leash Train Your Feline Friend
When you think about ways to spend time with your cat, a variety of indoor activities probably come to mind. From watching TV together to enjoying daily playtime sessions to creating an incredible cardboard box fort, there are plenty of ways to bond with your pet without leaving the house.That doesn't mean that you have to stay indoors all the time. If you've ever wanted to be able to explore the outside world with your cat too, there is one surefire way to make it happen: learning how to train your cat to walk on a leash. That's right — leash training isn't just for dogs. You can just as easily train your cat to stroll around the neighborhood and enjoy outdoor excursions by keeping them safe with a leash.This is our 101 guide on how to train your cat to walk on a leash. Find out everything you need to know about walking your cat on a leash, from how to pick the right gear to tips on outdoor adventures you can embark on together.
Choose a Great Harness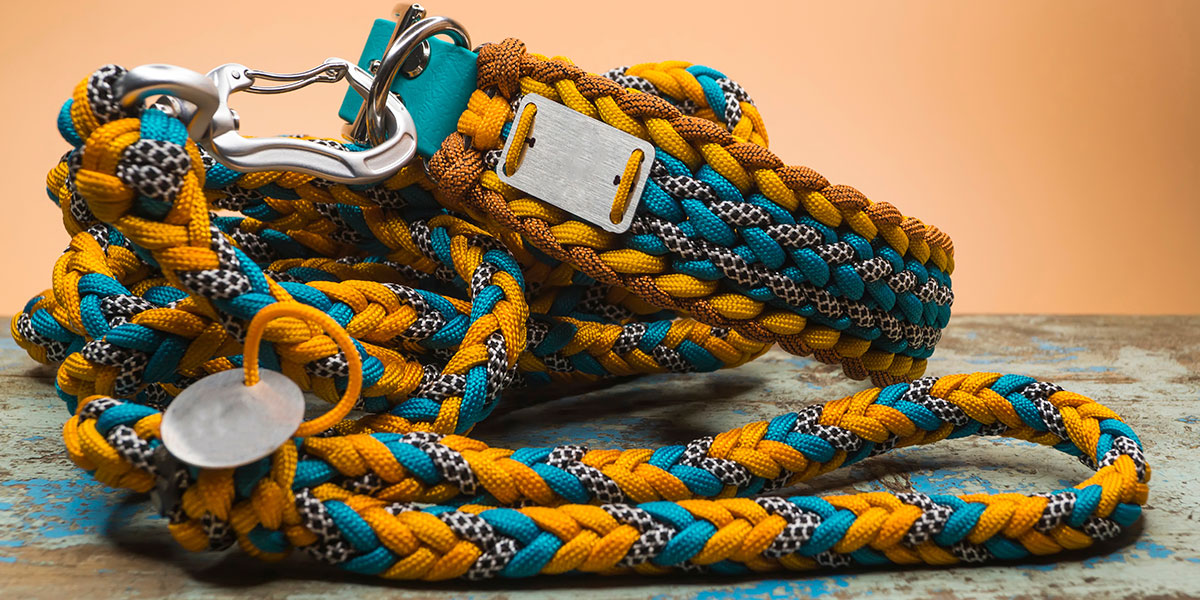 The first step in figuring out how to train your cat to walk on a leash is purchasing all the gear that you'll need. You will of course need a leash, but you will also need something to connect it to. While leashes can be used with collars, it's recommended that you buy a harness for your cat instead. Harnesses are much more comfortable for cats and prevent too much tension from being put on their neck by the leash.If you connect the leash to a collar, there is also the risk that it will slip off and your cat could get lost. Harnesses are a more secure option. To pick a great harness to use when walking your cat on a leash, look for one that offers a snug fit but that isn't too restrictive. If you can slip two fingers between the harness and your pet, the fit is ideal. Other desirable qualities of a good harness are breathability, soft fabric and a lightweight design.
Introduce the Harness and Leash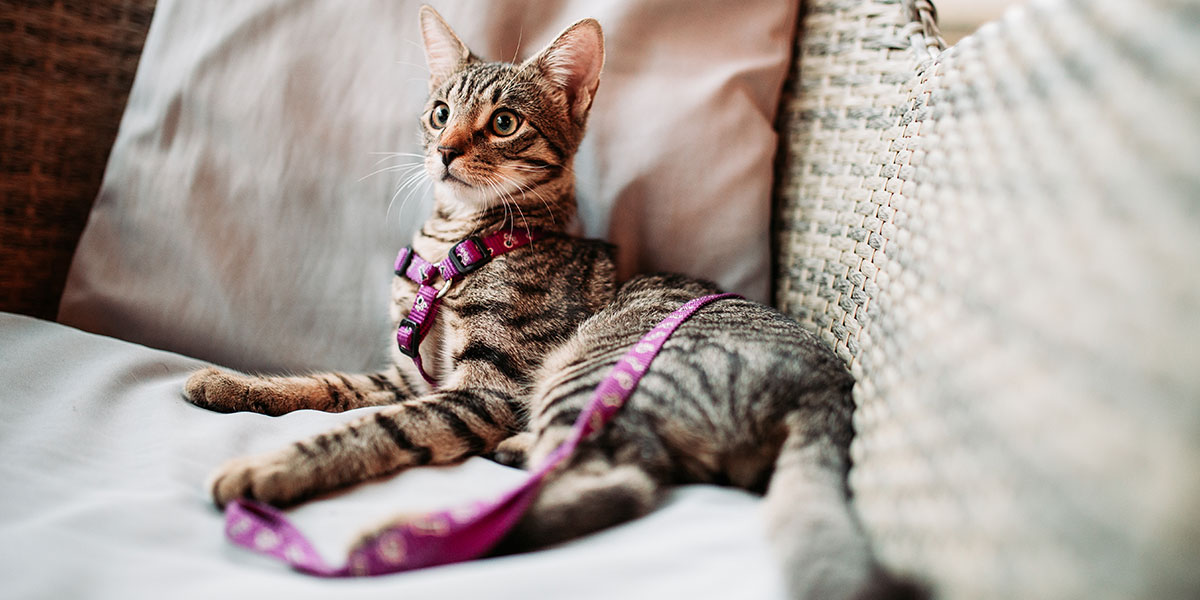 Even after you've purchased a harness and leash for your cat, it's best not to jump right into walking your cat on a leash. An essential part of learning how to train your cat to walk on a leash is making sure they're comfortable every step of the way. Letting them get used to the gear they will be wearing is the first part of achieving that goal. Start by letting your cat wear the harness inside for short periods of time to begin with.You can start by putting the harness on your cat for just a few minutes at a time, and gradually increase the amount of time they wear it. Successfully introducing the harness means that your cat will get so used to it that they will walk around completely unbothered by it, as if they aren't even wearing a harness. Once you've reached this stage, you can introduce the leash. Attach it to the harness and let your cat roam around the house with the leash trailing behind them.
Start Slowly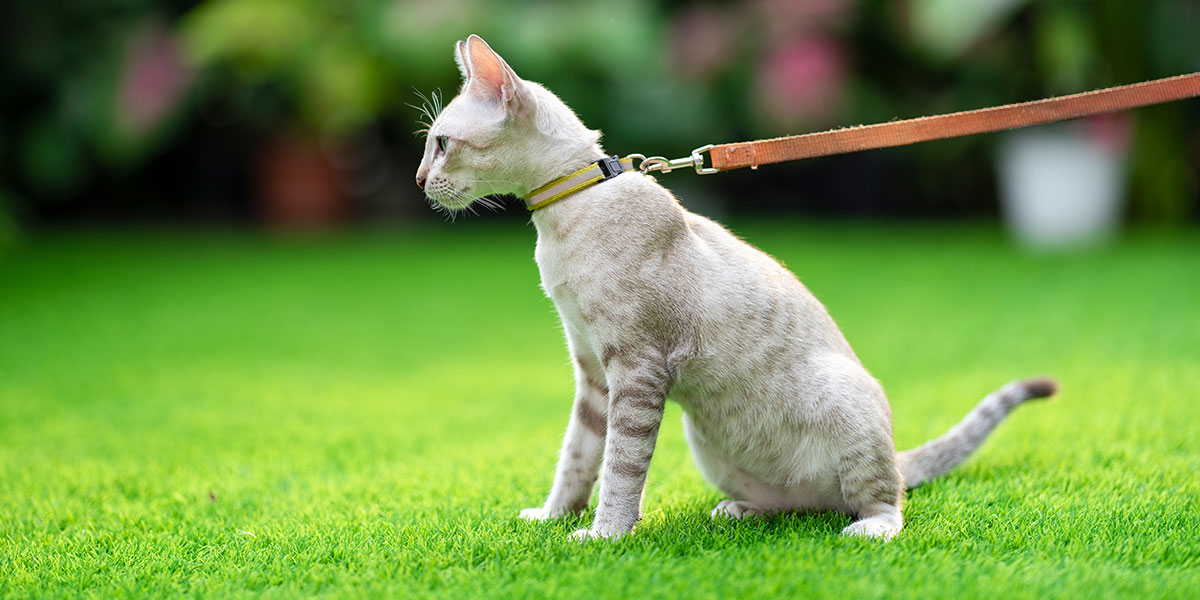 Once your cat is comfortable wearing the harness and leash, you can actually start the process of figuring out how to train your cat to walk on a leash. It's recommended that you do so with the following steps:
Take Indoor Walks— The first time you walk your cat on a leash, you should stay inside the house. This will keep your cat safe and ensure that you can easily stop if your pet feels overwhelmed. The house is also your cat's most familiar environment, which will help your pet feel calm while trying out this new activity. Take short walks around the house with the harness and leash to begin.
Move to the Backyard— Once your cat has mastered walking on a leash inside the house, you can move on to using the leash in your front or backyard. You'll still be close to home in case your pet needs a break, and will be able to introduce the outdoor environment in a safe way. Take short walks around the yard and let your cat be the guide. If your pet hasn't spent much time outside, they will probably need more than a few walks to acclimate to all the noises, sights and smells.
Take Longer Outdoor Walks— The next step in how to train your cat to walk on a leash is starting to take longer outdoor walks that take place further away from your home. Start by walking your cat on a leash past a few of your neighbor's houses, and then walk halfway down the street. Give your cat plenty of time to get used to these walks before you think about planning more adventurous excursions.
With each of these steps, you should use rewards to encourage your cat and reward their behavior. Your cat will learn to associate walking on a leash with the positive reward of getting a treat or playing with a favorite toy. This will help you succeed in learning how to train your cat to walk on a leash.As you work on these different steps, it's also important to remember that every cat is different. Some cats will take to walking on a leash right away and will instantly enjoy exploring the great outdoors, while other pets will need you to be patient while they take their time getting used to the change in environment and the experience of using a leash to travel. As long as you make sure to listen to what your cat is telling you every step of the way, the two of you are both sure to have a positive experience as you figure out how to train your cat to walk on a leash.
Enjoy Outdoor Adventures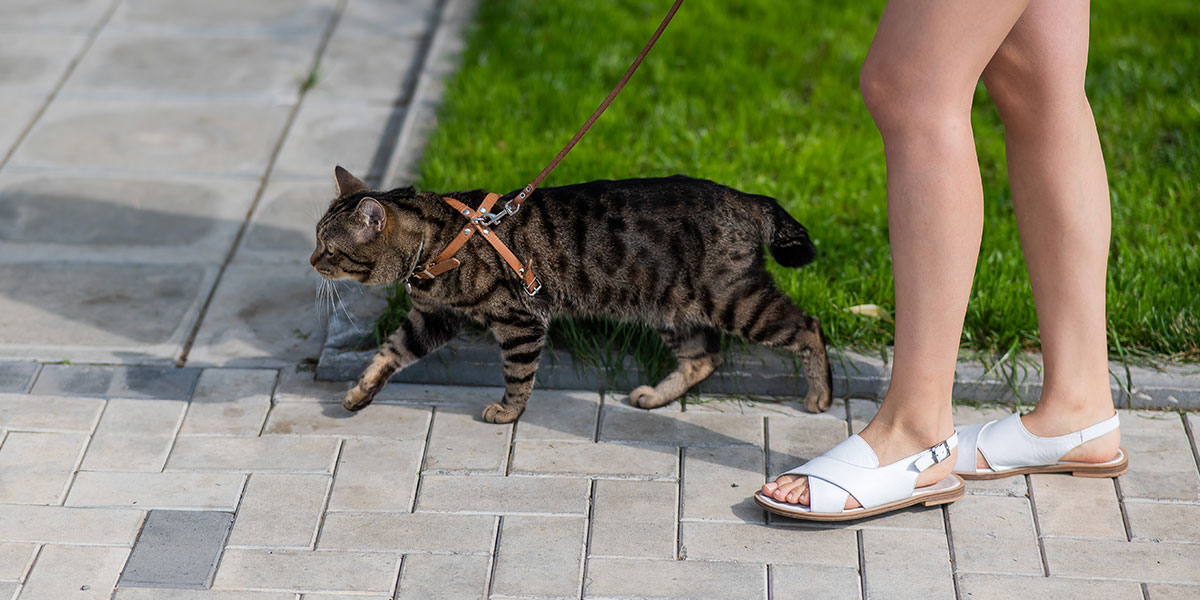 After your cat has graduated from walking on a leash in the house to comfortably exploring the great outdoors, you can start thinking about taking more exciting adventures together. Here are just a few examples of trips you can take with your pet after you've finished learning how to train your cat to walk on a leash:
Hiking With Your Cat— One exciting way to spend time with your fur baby is to go hiking with your cat. Once your pet is leash trained, they can walk alongside you as you enjoy a scenic hiking trip. Make sure you check ahead of time to see if the trail allows pets and cats specifically.
Go Out to Lunch— If you'd prefer a more leisurely excursion than hiking with your cat, visiting a pet-friendly restaurant is a great option. You and your cat can enjoy fresh air while sitting outside and eating together. Afterwards, you can walk your cat on their leash and window shop as you pass by local stores. You might even find a pet store to explore together.
Visit the Beach— A day at the beach is another great way to spend time with your furry friend and bond while walking your cat on a leash. There are plenty of feline-friendly beaches you can visit during the warmer months. Many cats are fans of playing in the sand and enjoy experiencing the new environment of the beach.
Keep Your Pet Safe With Skoon's Catpack Carrier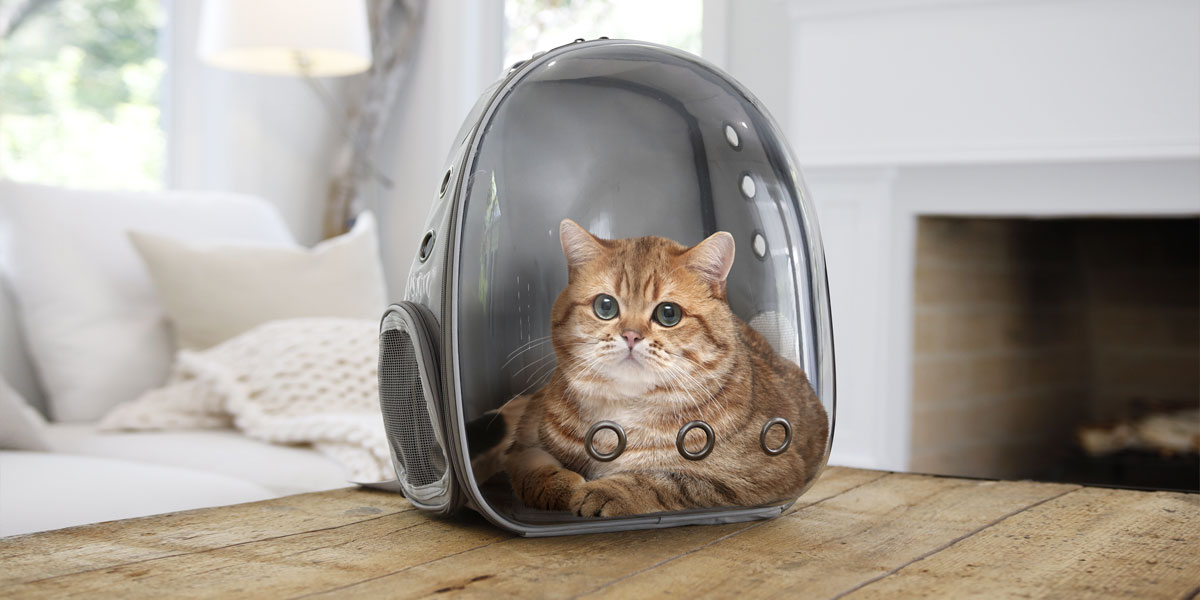 After working out how to train your cat to walk on a leash, there is one more step that you can take to keep your pet safe while you explore the great outdoors. Having a cat carrier on hand is a great way to make sure your cat always has a safe space to retreat to if they get scared, overwhelmed or just need a quiet, protected area to relax in and take a break.The Catpack Carrier from Skoon is the perfect addition to all of your outdoor adventures with your cat. The Catpack has a lightweight design that makes it easy to carry. It is well-ventilated and durable to keep your cat comfortable and safe. It also features a large transparent capsule that your cat can see through to take in all of the scenery around them.Skoon's Catpack comes in hand in many situations where you would be walking your cat on a leash. For example, if you're hiking with your cat, you can transport them to the trailhead in the Catpack and have it available in case your cat gets tired before you're done with the hike. If you're visiting a restaurant or the beach and your cat gets overwhelmed by the change in environment, they can rest in the Catpack and relax before rejoining you.Take Skoon's Catpack Carrier along with you on all of your outdoor adventures so you can enjoy walking your cat on a leash while keeping them safe!Sources:https://www.thesprucepets.com/how-to-leash-train-cats-551823https://www.dailypaws.com/cats-kittens/cat-training/how-to-train-a-cat-to-walk-on-a-leashhttps://r2ppet.com/blogs/all-blogs/activities-to-do-with-your-cathttps://www.allpetvoices.com/6-places-to-visit-when-on-a-walk-with-your-cat/