They say there's no place like home for the holidays. When you have subscription cat litter or order it online — and enjoy cat litter delivery instead of braving the wilds of the winter wonderland — that saying holds true.Instead of buying a holiday subscription box of fruit, cheese, beauty products or flavored popcorn, think about giving the gift of the best cat litter for odor control delivered to your loved one's door.
It Makes the Perfect Gift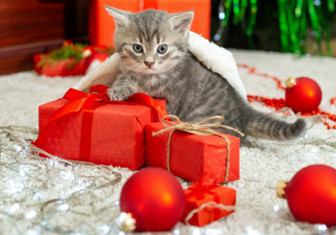 Skoon cat litter makes the perfect gift. It's the holiday subscription that keeps on giving all year long.If you have a cat, you use cat litter. Chances are you are using a lot of it. The thing about litter is that it's hard to keep discreet. Lingering smell, anyone?That's why you've probably never given litter as a gift before, and why would you? Traditional clay and silicone litters do not scream, "Best gift ever!"These litters are heavy and difficult to move around. They create less than magical clouds of dust and debris in the air you breathe, and they leave behind those icky clumps in the carpet that make cat owners less than jolly. Some of them even contain toxic and harmful chemicals. Who wants to unwrap a great big bag of toxins?But Skoon is full of holiday magic. Its low-dust, all-natural formula means you can say goodbye to potential health hazards and upper respiratory irritants. Highly absorbent diatom pebbles trap kitty bathroom odors, and Skoon is non-clumping. It lasts for an entire month, which means your favorite aunt never needs to scoop out a litter box again.And Skoon offers a 100% odor-control guarantee. If you can smell it, we won't sell it.
Say Goodbye to Holiday Crowds
We've all seen the holiday shopping horror videos that end in a massive stampede. If you love your best friend Joe but hate trying to find a parking spot at the mall, Skoon kitty litter is for you.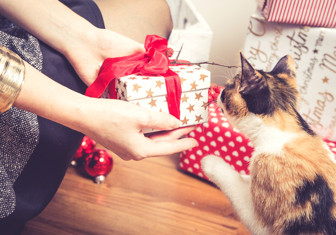 After all, who does Joe love more than his feline best friend? So, when you buy Joe a Skoon subscription, you're really buying a gift for Mr. Meowgi too.Simply hop online to buy or sign up for a monthly Skoon subscription. Every 30 days, a lightweight, disposable litter box of Skoon will arrive at Joe's door when ordering a subscription. If you're not down for that kind of commitment, simply treat him to a bag to see if he and Mr. Meowgi like it. If they do, Joe never has to leave the house for litter again, and you don't have to argue with an overzealous shopper about who grabbed the last red sweater first.
Save Time & Money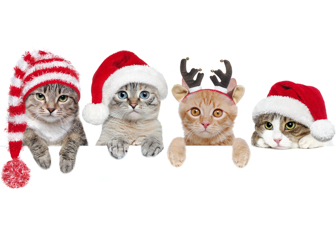 With Skoon, you're buying back all the time you usually spend purchasing, cleaning and changing out cat litter. You never have to worry again!We know what you're thinking. "A subscription cat litter service sounds great, but can I afford it?" The answer is yes!Skoon costs just $24.95 each month, with discount pricing for multi-cat homes. Shipping is always free, and you can cancel your subscription at any time.Oh, and you'll also be saving the earth. Skoon is biodegradable and eco-friendly. Way to decrease your carbon pawprint!It's time to make the holidays merry, bright and odor-free. Say goodbye to the hassle of traditional litters and hello to the power of all-natural Skoon.Buy online or start your Skoon subscription today!