Cat Costume Ideas for This Halloween
Once you start to see witches, skeletons and jack o' lanterns in every yard, there's no doubt that spooky season has arrived and that it's time to plan your Halloween night. Whether you will be heading to a friend's costume party, handing out candy at home or simply turning the lights off and watching a scary movie on the couch with your cat, there's one activity that can add a little extra fun to all of these experiences: dressing up.To take your Halloween experience to the next level, let your cat join in on the fun too. If you've found yourself wondering, "What can I do with my cat on Halloween?", there's no better answer than dressing them up too! The only question left is what kind of costume you're going to get for your cat.We're here to make including your cat in the festivities simple with plenty of Halloween costume ideas for cats to choose from. Whether you want to make the costume yourself or want to take inspiration from your favorite movie, we've got Halloween costume ideas for cats that will work for you and your pet.
Easy DIY Costumes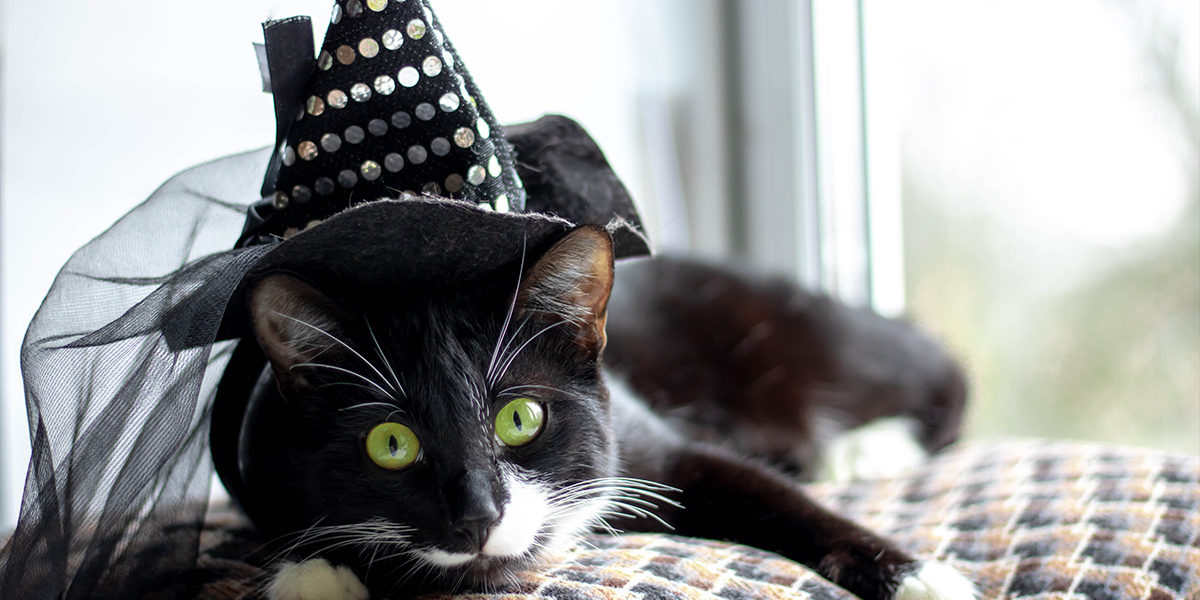 If you want to get in the Halloween spirit but don't want to spend a lot of money on a store-bought costume for your cat, there are plenty of DIY Halloween costume ideas for cats. Here are some of the best options for costumes you can put together with minimal time and effort:
Witch Hat— If you're already an expert in knitting or crocheting, you've got this DIY Halloween costume idea for cats in the bag. Simply knit together a cat-sized witch's hat, complete with ear holes and a string to secure it in place, and you're good to go.
Hipster Outfit— If you've got a spare beanie and pair of fake glasses lying around the house, you can easily make a hipster cat costume. Finish it off with something plaid or flannel.
Paper Food Costume— This might be the easiest costume on the list. All you need to do is take a piece of poster board or thick paper and use scissors to create the shape of the food of your choice. Cut out a hole big enough to fit your cat's head in the middle and use colored pencils or markers to bring your favorite food to life. Think avocados, pizza slices or cheeseburgers.
Matching Costume Ideas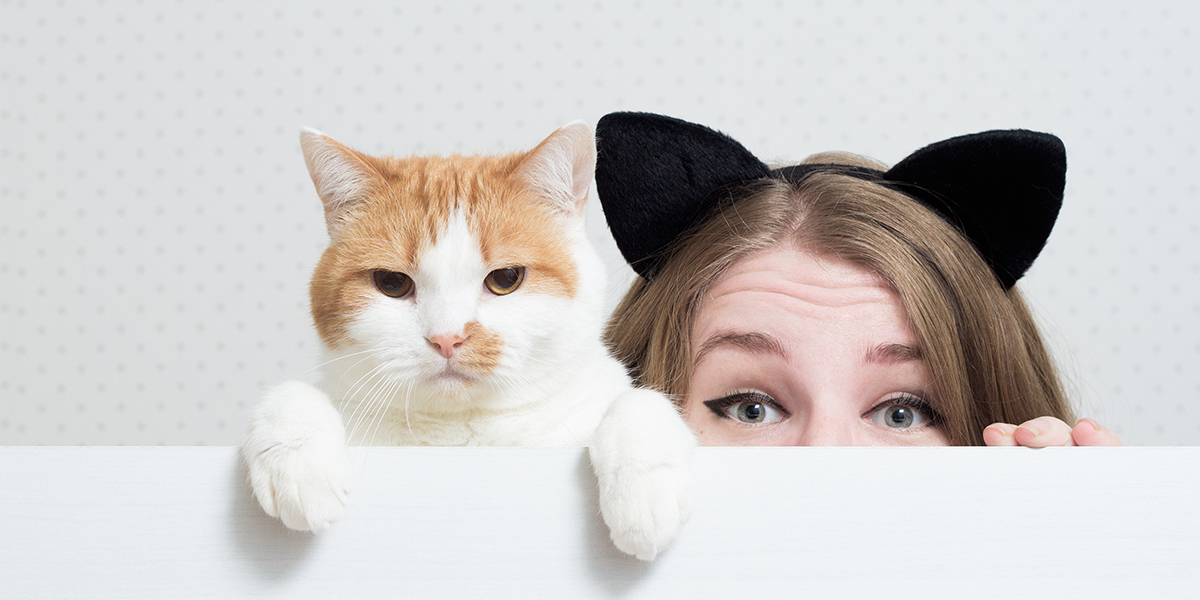 If you want to truly make the most of the holidays with your cat, coordinate your outfits. This really answers the question, "What can I do with my cat on Halloween?" There's no way your cat will feel left out of the festivities when the two of you spend the evening wearing matching looks. Here are some matching Halloween costume ideas for cats and cat owners:
Pirate and Parrot— Find a great pirate costume for yourself and put your feline friend in a parrot outfit. Your cat is sure to shine as the brightly colored sidekick of every pirate's dreams.
Doctor and Nurse— Another great option is to find a doctor costume for your cat and then buy a nurse costume for yourself. This is a great way to celebrate your mutual love of watching Grey's Anatomy together. Paging Dr. Whiskers!
Cat Costume— If you're short on time but still want to impress your fur baby, you can match by simply dressing up yourself as a cat. All you need is a headband with ears and a dot of face paint on your nose, and you'll be ready to party. This is also a good option if your cat isn't a fan of wearing costumes.
Pop Culture Halloween Costume Ideas for Cats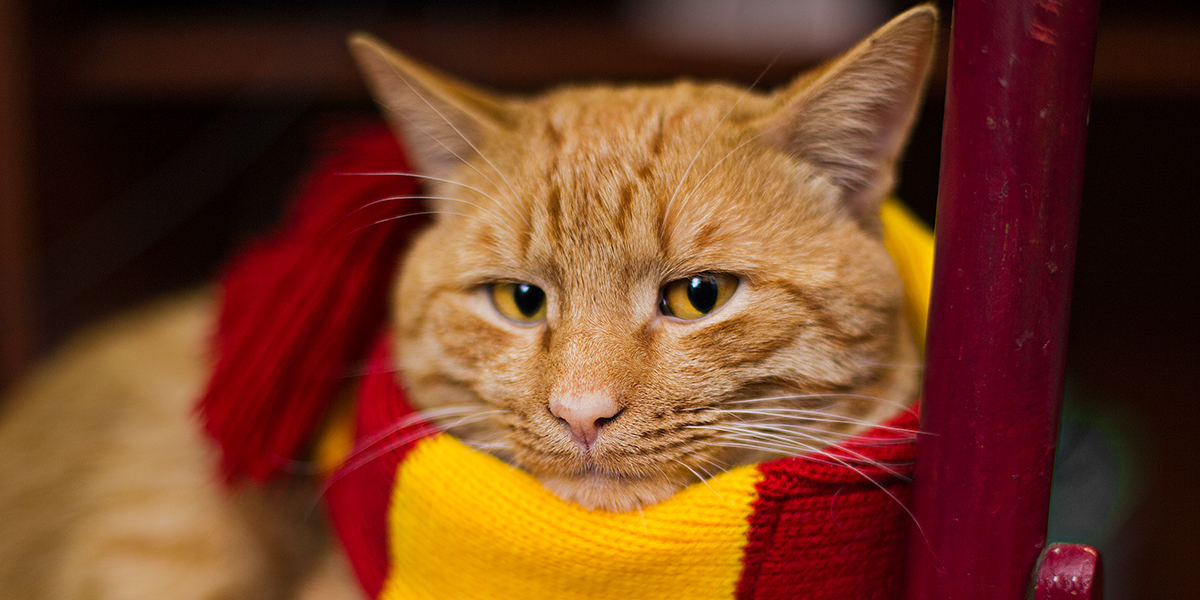 The best Halloween costume ideas for cats bring a smile to your face. A great way to achieve this is to take inspiration from your favorite pop culture references. Here are some excellent pop culture-inspired Halloween costume ideas for cats to get you started:
Harry Potter— There's nothing cuter than a cat dressed up like a Hogwarts student. A set of rounded glasses and a wizard's cloak are the best way to take inspiration from Harry Potter this year for your pet's outfit.
Stranger Things— If you're looking for a matching pop culture Halloween costume idea for you and your cat, try a Stranger Things theme. Dress up as your favorite character from the show, and put your cat in a waffle costume!
Marvel— If you're a big fan of Marvel movies, you know there's no shortage of characters to choose from when it comes to Marvel Halloween costume ideas for cats. Spider-Man, Captain America, Scarlet Witch and Wolverine are just some of the many options to pick from.
Get Your Home Halloween-Ready with Skoon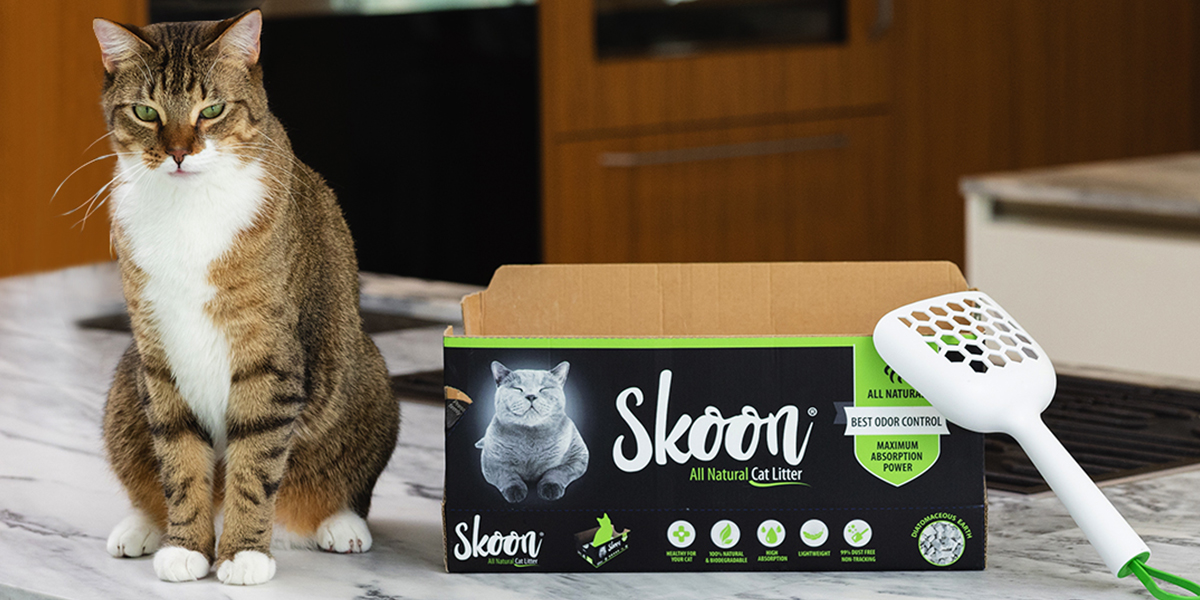 Now that you know the answer to "What can I do with my cat on Halloween?", you need to get your home ready for the festivities. Nothing ruins a Halloween party or spooky gathering like unpleasant odors from the litter box. Fortunately, Skoon's got you covered. Skoon has a 100% odor-free guarantee. That means you can focus on more important things than how your house smells this Halloween, like keeping the candy bowl full and organizing the perfect horror movie marathon for you and your cat.Choose Skoon today for a fresh, festivity-ready home this holiday season!Sources:https://www.hepper.com/diy-halloween-costumes-for-cats/https://www.thesprucepets.com/halloween-costume-ideas-for-cats-4151121https://www.meowingtons.com/blogs/lolcats/purrfect-couples-costumes-for-you-and-your-cat-halloweenhttps://www.dailypaws.com/living-with-pets/holidays/halloween-costumes/cat-halloween-costumes