How To Dress Your Cat Up For Saint Patrick's Day
On March 17th, it's time to break out your favorite green shirt and get in the spirit to celebrate. When you're planning the perfect outfit for yourself for Saint Patrick's Day, don't forget to think about your cat too. Every pet owner knows that the holiday festivities just aren't the same if your fur baby isn't included.This Saint Patrick's Day, make sure your cat feels like a part of all the fun by browsing costumes for cats and planning to dress up your cat in a festive look. After all, costumes for cats aren't just for Halloween. Every holiday is an opportunity to bond with your pet by dressing them up and making sure they feel special and included in the seasonal celebration.This is our guide to Saint Patrick's Day cat costumes, from simple choices like green-colored items to more elaborate options like unique hats for cats. Read on to find a costume idea that's sure to both delight your pet and make all the other cats in the neighborhood green with envy.
Go Green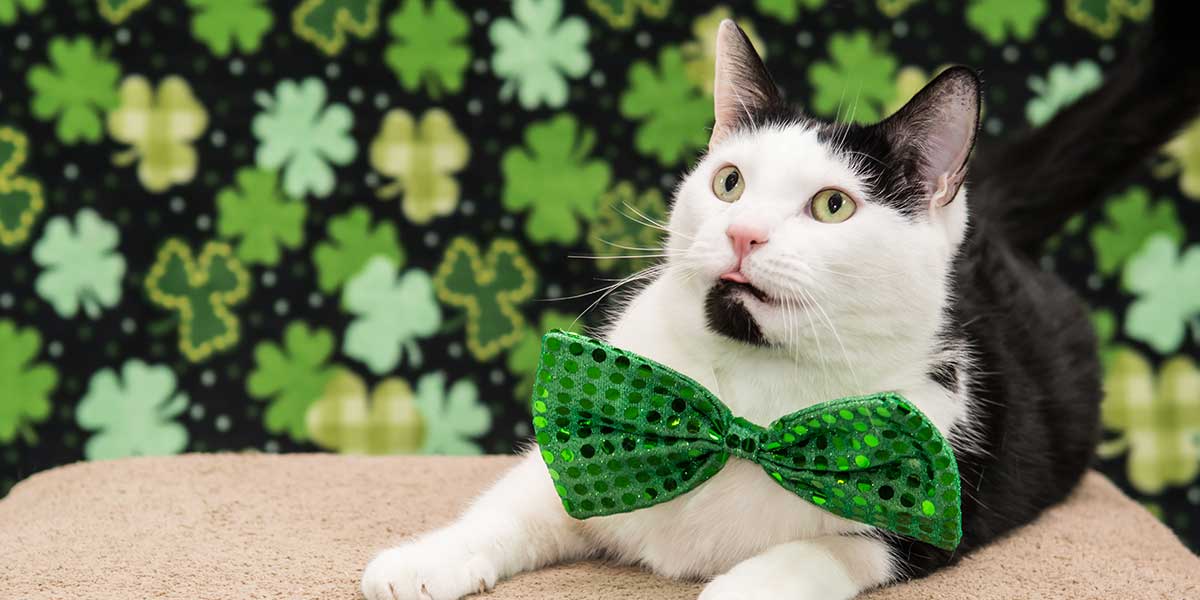 Wearing green is one Saint Patrick's Day tradition that doesn't just have to be limited to people. In fact, this is one of the easiest ways to put together a costume for your cat. Simply find a green item to add to their everyday look, such as:
Collar— Switch out your pet's typical collar for one in a shade of green. If you want to add some extra flair, look for a collar with a Saint Patrick's Day theme. Think shamrocks, rainbows, pots of gold or leprechauns. You're sure to be able to find plenty of options online.
Bandana— If your cat likes to rock bandanas, they are another great choice for simple holiday costumes for cats. Look for green-hued bandanas or ones made with St. Patty's Day in mind. You can even make a quick DIY bandana to slip over your cat's collar if you're a fan of sewing and have some green fabric on hand.
Sweater— Sweaters are always an excellent option for holiday costumes for cats. They provide the perfect opportunity for you to match your cat. Look for sweaters in the same shade of green or with similar patterns so you can celebrate Saint Patrick's Day in style together.
Saint Patrick's Day Hats for Cats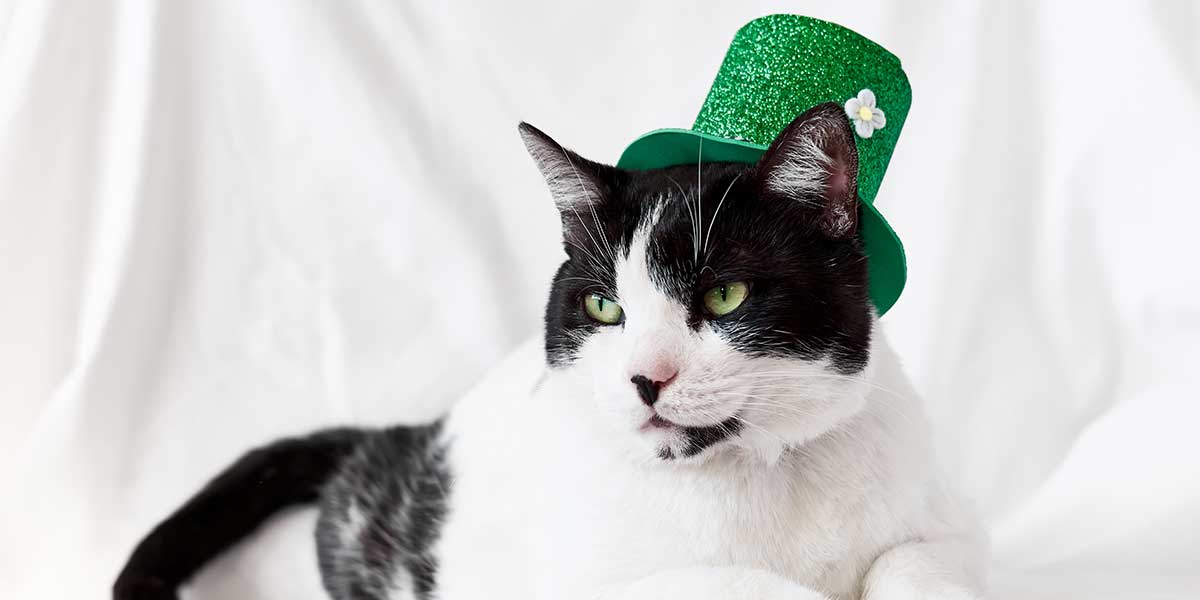 If you want to take your Saint Patrick's Day cat costumes to the next level, look for hats designed for the holiday. There are plenty of options out there for St. Patty's Day themed hats for cats that are sure to help your cat feel included in the holiday fun. Here are some ideas for holiday hats for cats to get you started with planning out this costume idea:
Leprechaun Hat— Leprechauns are a classic figure in most Saint Patrick's Day celebrations, making them the perfect inspiration for costumes for cats. If you do a quick search online for leprechaun hats for cats, you'll find numerous options to choose from, ranging from hand-knit caps to felt tophats. For an extra fun twist, find a small orange beard for your cat to wear along with their leprechaun hat.
Shamrock Hat— Shamrocks or four-leaf clovers are another iconic feature of St Patty's Day decorations. A hat emblazoned with shamrocks is a great choice for a cat costume. For especially creative options, check outEtsy, where you'll find handmade hats for cats like crocheted shamrock headbands or large felt clover hats.
Rainbow Hat— Costumes for cats don't have to be green to fit the Saint Patrick's Day theme. Leprechauns are known for finding gold at the end of the rainbow, meaning that rainbows have a strong association with the holiday. Finding a rainbow-themed hat is an easy way to help your furry friend celebrate the occasion.
Gold Hat— Another creative take on St. Patty's Day hats for cats would be putting your pet in a gold hat, inspired by the pots of gold that leprechauns are known for hiding. Let your cat be your own personal pot of gold by finding the perfect metallic-hued hat for them to wear this March 17th.
Enjoy Easy Kitty Clean-Up with Skoon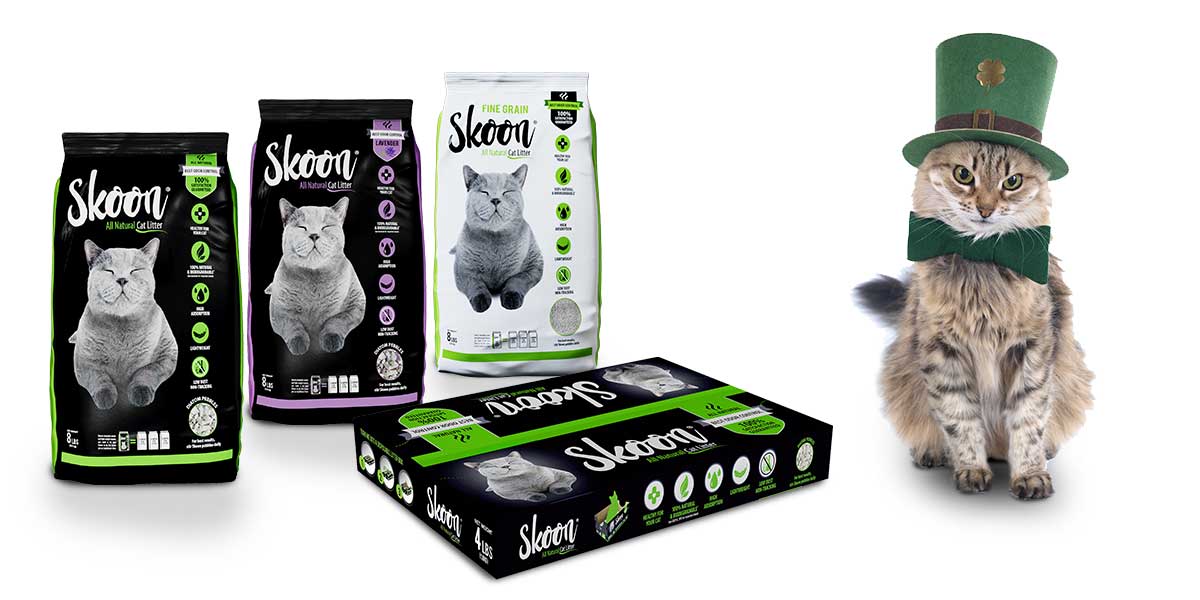 Taking great care of your pet means supporting their health with a comprehensive wellness routine, from providing them with great quality food to grooming them often and scheduling annual vet check-ups. When you choose simple and effective cat care solutions, you'll be able to promote your cat's physical health while also spending more time boosting their mental health by planning fun activities like getting dressed up for Saint Patrick's Day.Skoon is one easy cat care solution that should definitely be a part of your routine. Skoon cat litter makes kitty clean-up a breeze. Skoon is an all-natural cat litter that has a 100% odor-free guarantee. It's also non-clumping, non-tracking and free of toxic chemicals. That means you won't have to spend time dealing with common litter box issues like unpleasant smells, litter that ends up all over the house and harmful ingredients that threaten your pet's health.Skoon is also delivered to your door through a monthly subscription service, meaning that you'll never have to worry about running out of litter. When you fill your cat's litter box with Skoon, you'll get to spend less time on kitty clean-up and more time having fun with your pet!ChooseSkoon cat littertoday to make litter box worries a thing of the past so you can enjoy more fun activities with your cat, like dressing up for St. Patty's Day!Sources:https://www.hepper.com/diy-cat-bandanas/https://www.thesprucepets.com/ways-to-celebrate-your-pet-on-st-patricks-day-5222127https://cattime.com/holidays/33799-saintt-patricks-day-cat-giftshttps://www.wideopenpets.com/7-accessories-to-get-your-pet-into-the-spirit-of-st-patricks-day/