Summer Cat Memes to Enjoy
Spending a day at the beach with your friends or visiting the local ice cream shop on the first day it opens are always fun ways to start summer. Add packing a picnic lunch for you and your fur baby to enjoy in the great outdoors and planning an exotic getaway at a feline-friendly resort to the list, and you'll have several excellent ways to celebrate the arrival of the summer months.You can do one more activity to ring in the season of vacations and sunshine that doesn't require you to leave your house. All you need for this one is your phone and a comfy spot to lounge. That's right — we're talking about browsing summer cat memes. And, as all cat owners know, any excuse to stay home and cuddle with your cat on the couch is a winner. There are cat memes for every occasion, and the beginning of summer is no exception.These memes were made for fur parents ofall cat breedsto enjoy, so get settled with your cat. Here's to the summer season officially beginning!
Time Well Spent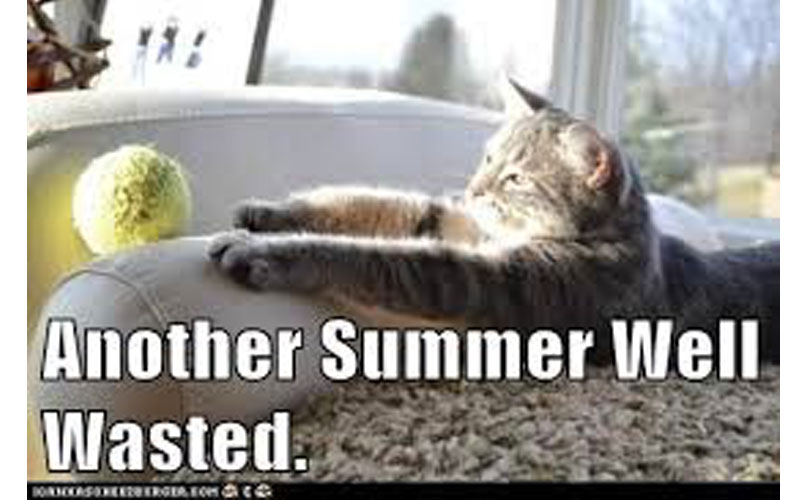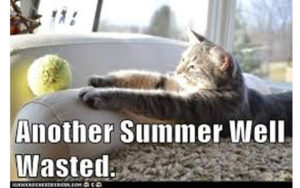 This cat meme says it all — the mark of a good summer is time "well wasted." When you're not focused on juggling appointments and meeting deadlines, you can spend more time enjoying the little things around you. Take advantage of this less busy time of year to relax and devote some time to doing nothing in particular.
Staycation, Anyone?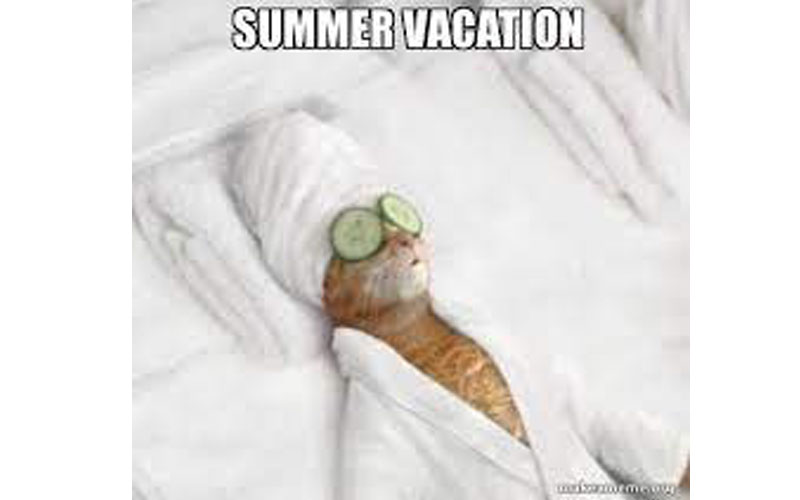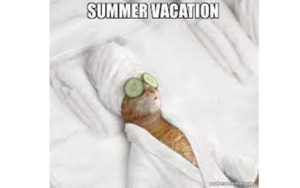 When it comes to the true meaning of summer vacation,this cathas the right idea. Sometimes all you need to enjoy a well-deserved period of time off is cucumber slices and a fluffy white robe. Whether you partake in this laidback activity in the comfort of your own home or in a luxurious spa, you're sure to remember what summer is all about: relaxation.
Picnic Purr-adise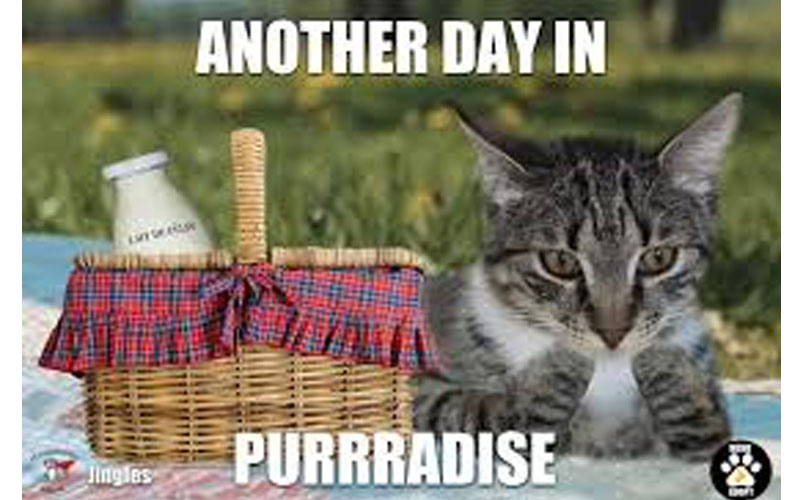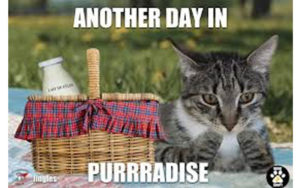 There's nothing like a picnic on a beautiful summer day to make you feel like you're living your best life — and isn't that really what summer is all about? Include your cat in the fun, and you'll both be in purr-adise. After all, everycat breeddreams about spending the day in a grassy field with a pitcher of milk and a bowl of delicious cat treats.
The Never-Ending Weekend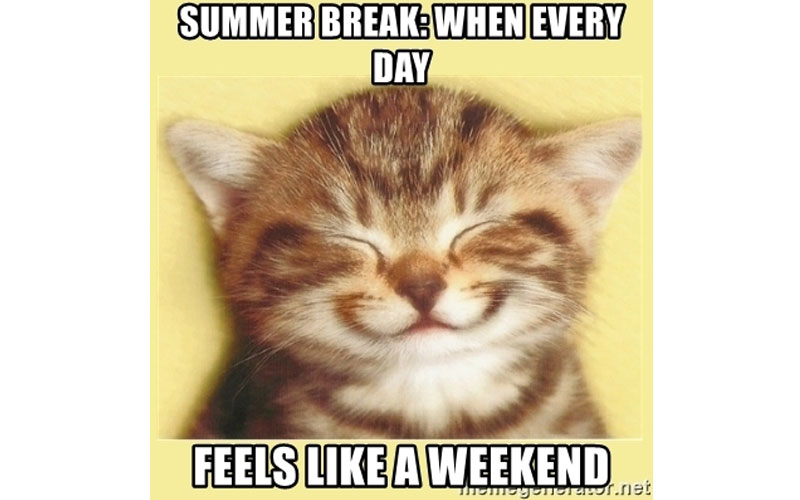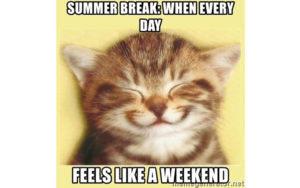 If you spent a lot of time as a kid wishing that the weekend could last longer than just two days, you were probably a big fan of summer break growing up. Take a look at this meme to remember what it felt like to have an entire summer off from school. You might find yourself transported back to a different time when every day felt like Saturday.
Just Too Hot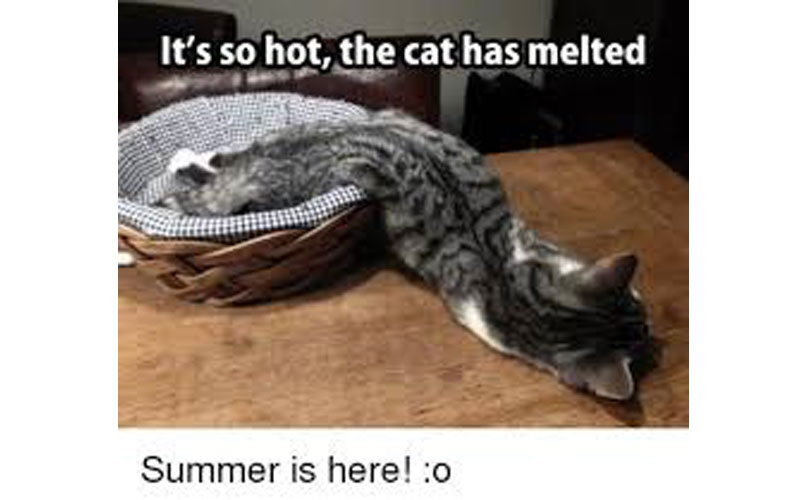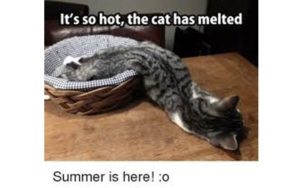 Summer isn't just about sunshine and days at the pool. Celebrating summer in all of its glory also means acknowledging the not-so-ideal aspects of this season too. For all of the great features of summer, there are also some unwelcome features — namely, the extremely hot temperatures. If you've ever had to spend a sweltering summer day in an apartment without air conditioning or with only the slightest breeze from a tiny desktop fan to cool you off at work, you know exactly howthis catfeels.Nothing signals the arrival of summer quite like seemingly unbearable heat. Felines ofall cat breedsbegin to melt when the summer temps reach their peak — and who can blame them?
Treadmills Are For Napping, Right?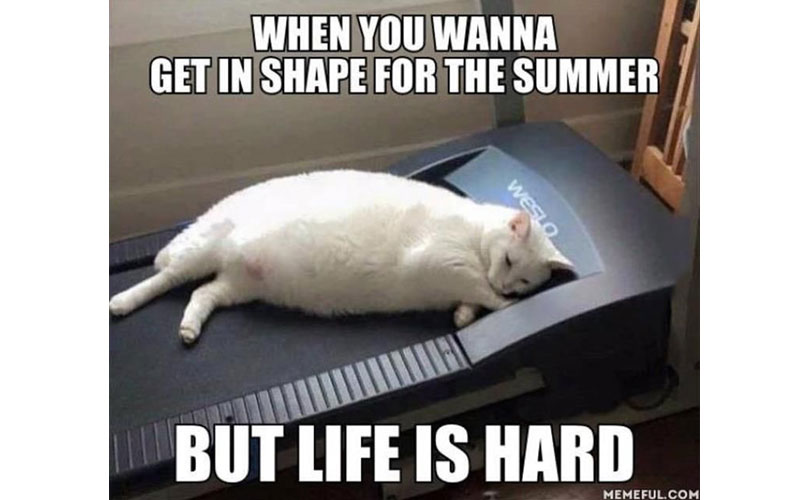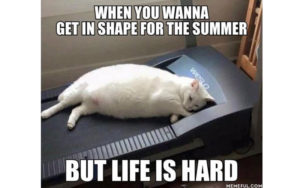 The summer season comes with a lot of expectations. Sometimes, all you want to do is curl up and take a nap instead of dealing with them. Thiscatis putting that treadmill to good use one way or another!
Time Apart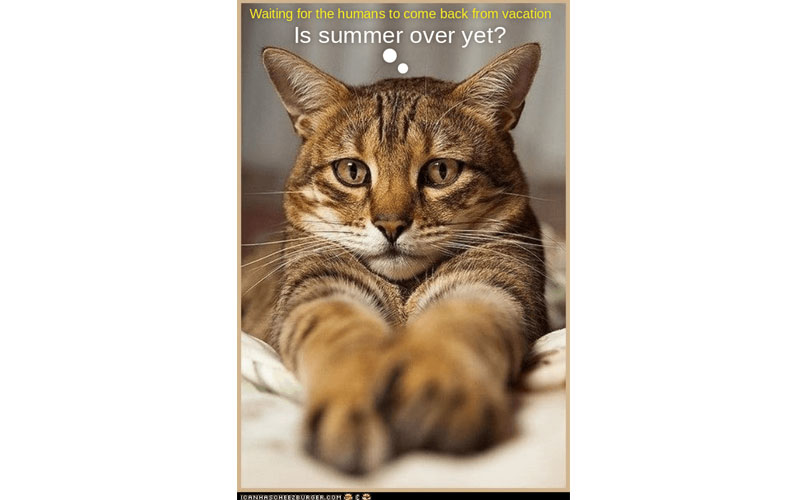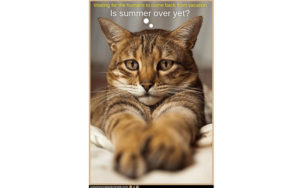 If your summer plans involve taking a vacation that doesn't include your furry friend, you'll understand this cat meme perfectly. Time apart can have cat owners and fur babies of all cat breeds wishing for summer to come to an end. No matter how much you're enjoying building sandcastles at the beach and collecting seashells, you'll probably missyour catat least a little bit (or a whole lot)!
Over Too Soon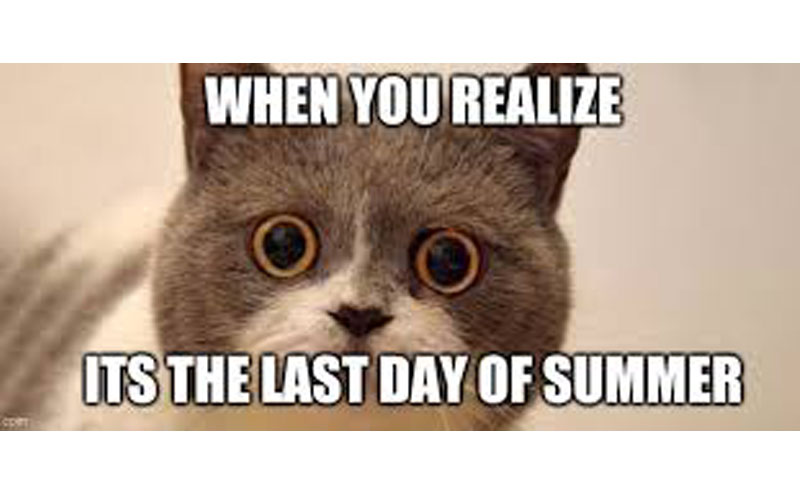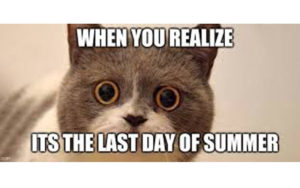 Of course, everyone knows the absolute worst part of summer is how quickly it goes. One minute you're enjoying a three-scoop ice cream sundae before jumping in the pool, and the next minute all of the leaves have turned brown, and it's fall. Be sure to savor the summer season while it lasts.
Summer FOMO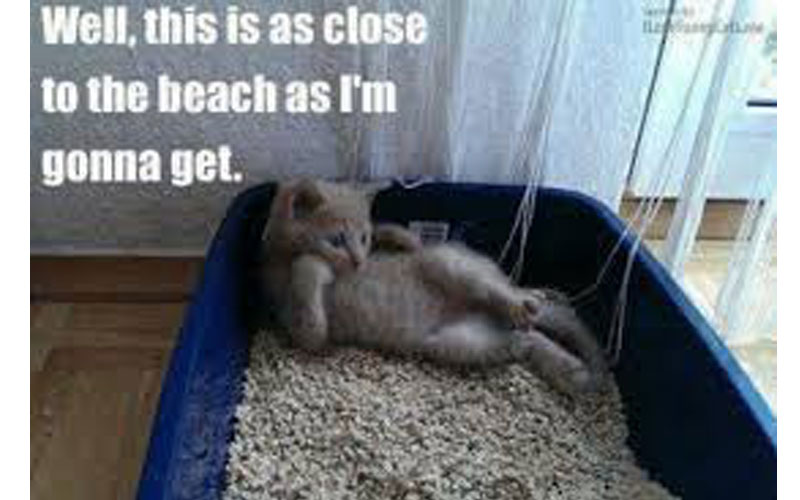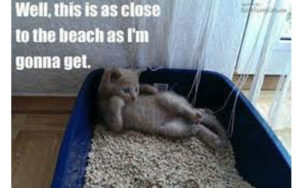 The best cat memes can be enjoyed by owners of allcat breedsbecause they are universally funny. This captures exactly how you feel when you don't have any summer plans. Luckily, if that box is filled with odor-absorbentSkoon cat litter, it won't smell!
Careful What You Wish For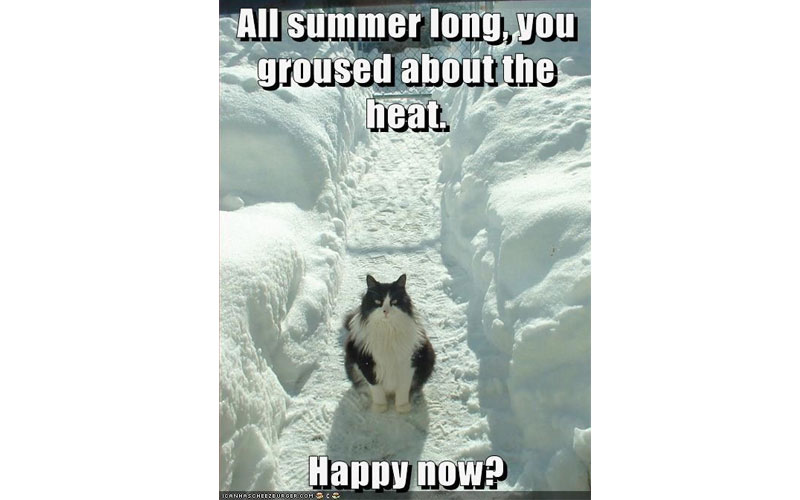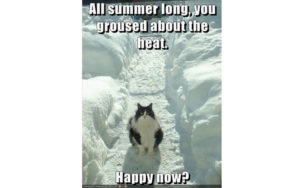 It's easy to complain about the summer heat, but would you rather be surrounded by piles and piles of freezing cold snow? The next time you get fed up with the summer heat, don't forget what winter felt like and remember that it will be here sooner than you think.
Maybe Mr. Whiskers Should Skip the Beach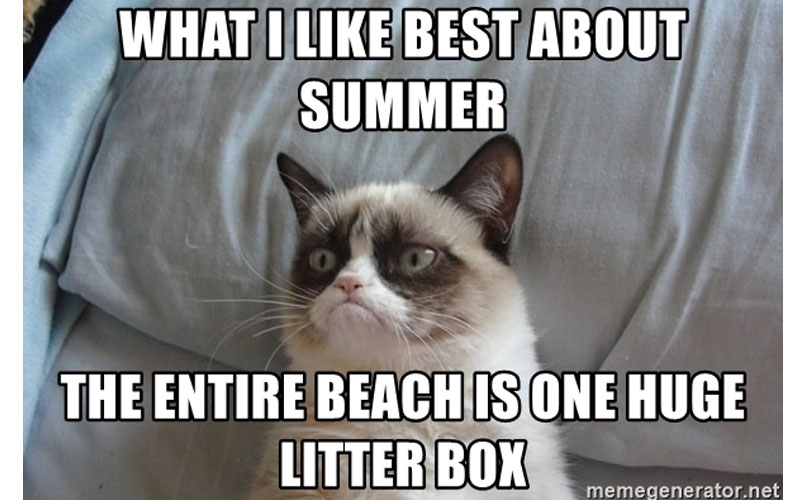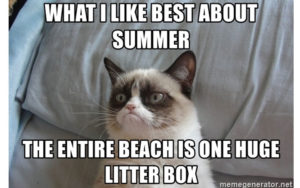 While we certainly can't blame felines of allcat breedsfor thinking this way, we might choose a different venue for our summertime picnic. When this is your cat's attitude toward the beach, it might be a good thing that most beaches are not feline-friendly. Skip the beach and stick withSkoonfor a manageable litter box.
Skoon Is Perfect in Any Season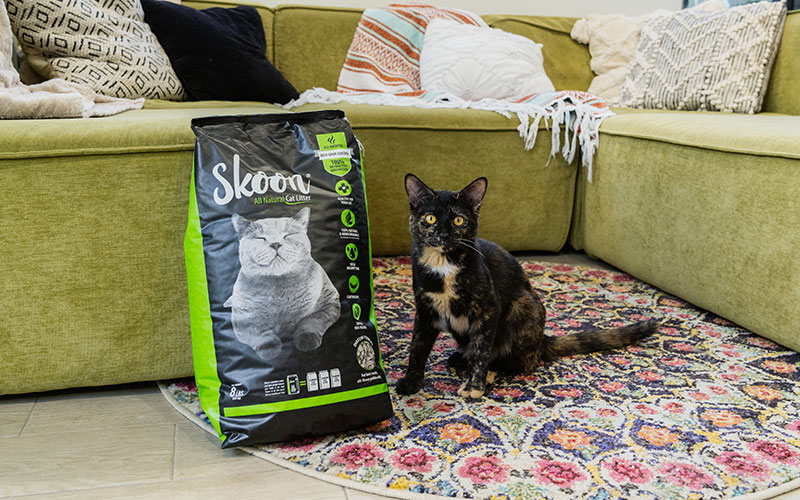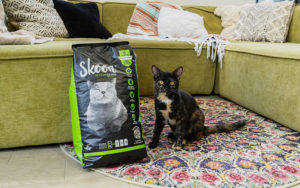 Not all cat memes are created equal: some are funnier than others, some are based on specific cat breeds, and some are only enjoyable at certain times of the year. Unlike summer cat memes,Skoonis excellent year-round and is a good choice for all cat breeds. Skoon makeskitty clean-upsimple, no matter what season it is. That's becauseSkoon cat litteris:
Odor-Absorbent—Skoonis made out of diatom pebbles, which expertly absorb odors.Skoon cat littereven has a 100 percent odor-free guarantee, so you can rest assured that there won't be any unwanted smells coming from the litter box to put a damper on the summer festivities.
Easy to Use— ASkoon subscriptionmakes kitty clean-up a breeze. A monthly subscription to Skoon brings a fresh delivery of litter to your door every 30 days, so you won't have to worry about running out of cat litter. That means you can spend more time at the beach or by the pool and less time restocking your litter supply. Even better, each delivery ofSkooncan come with a disposable cardboard litter box that makes scrubbing out plastic litter boxes a thing of the past.
All-Natural— Simplicity is also essential in terms of what goes into a cat litter and what makes it an excellent choice for felines of all cat breeds. With Skoon, you don't have to worry. Skoon cat litteris certified non-toxic and hypoallergenic. It's made of all-natural ingredients. When you're looking for an environmentally friendly litter option, Skoon is a great choice. Skoondoesn't contain any toxic additives or unnecessary ingredients, making it an excellent cat litter solution for your cat's health and your own.
Try Skoon cat litter todayto simplify (and improve) your kitty clean-up!