Best Gifts for Your Cat This Holiday Season
There are plenty of reasons to love the holiday season. If you're a fan of putting a festive flair on your house with decorations, it's the perfect time to break out the string lights, garland and all your holiday-themed throw pillows. If you have a sweet tooth, there's no shortage of treats to look forward to, from hot cocoa to holiday cookies to a big meal shared with friends and family.Another excellent reason to be a fan of the holidays is the tradition of gift-giving. There's nothing better than bringing joy to a loved one by presenting them with the perfect gift. If gift giving is your love language, this is your time to shine.When you're making your list and checking it twice to determine who you'll be shopping for this year, don't forget your cat. Humans aren't the only ones who enjoy receiving presents. To truly make your cat feel included in the festivities and like they're a part of the family, make sure there's a present with their name on it waiting for them this holiday season. Read on for some of the best cat holiday gift ideas to help you get inspired.
Cat Holiday Gifts: Favorite Items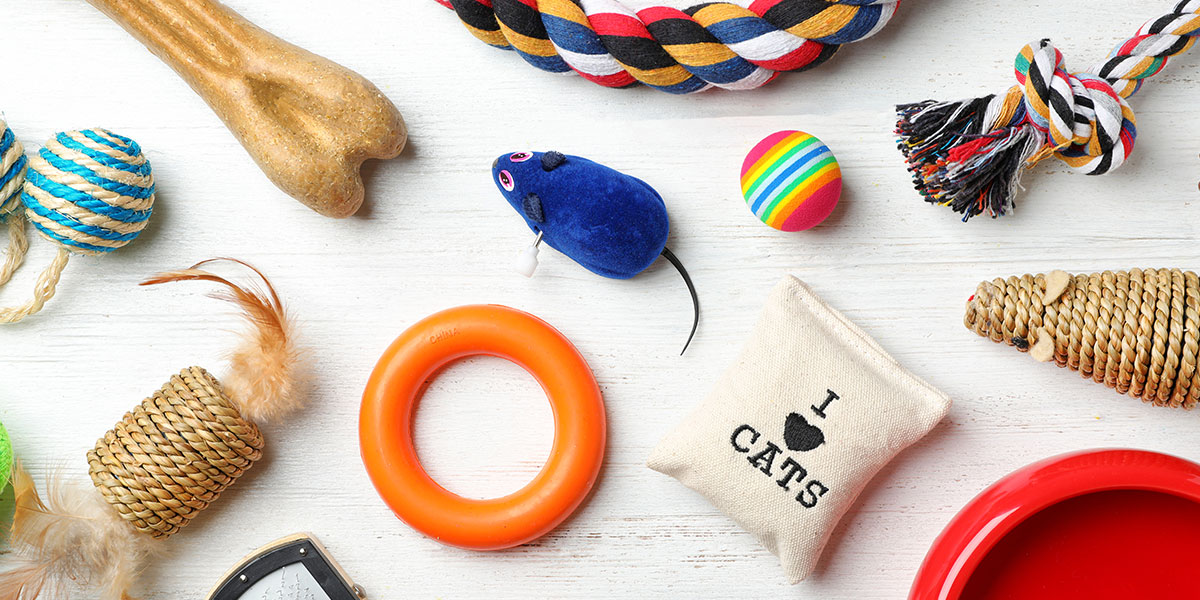 One way to approach picking out cat holiday gifts for your feline friend is to stock up on their favorite items. It's a safe bet to present your cat with one of their favorite products as a holiday gift. Here are some ideas for gifts for cats in this category:
Treats— If your cat has a favorite brand of treats, buy a fresh bag as their holiday gift. You could also see if the company has any limited edition flavors, as many pet treat brands release special festive versions of classic treats for the holiday season.
Catnip— Catnip is beloved by most cats. There's no better time to treat your fur baby to some catnip than during the holidays. Catnip makes a great cat holiday gift that is sure to please even the pickiest feline.
Toys— There are many different types of cat toys, and each cat has their own preferences around which kinds they enjoy playing with. When choosing toys as cat holiday gifts, consider wrapping up one kind of toy you know your cat loves and a new kind they've never played with before so they can have a new, exciting experience. Between puzzle toys, catnip toys, climbing toys, tunnels and wands, there are lots of options to choose from.
Creative Gifts for Cats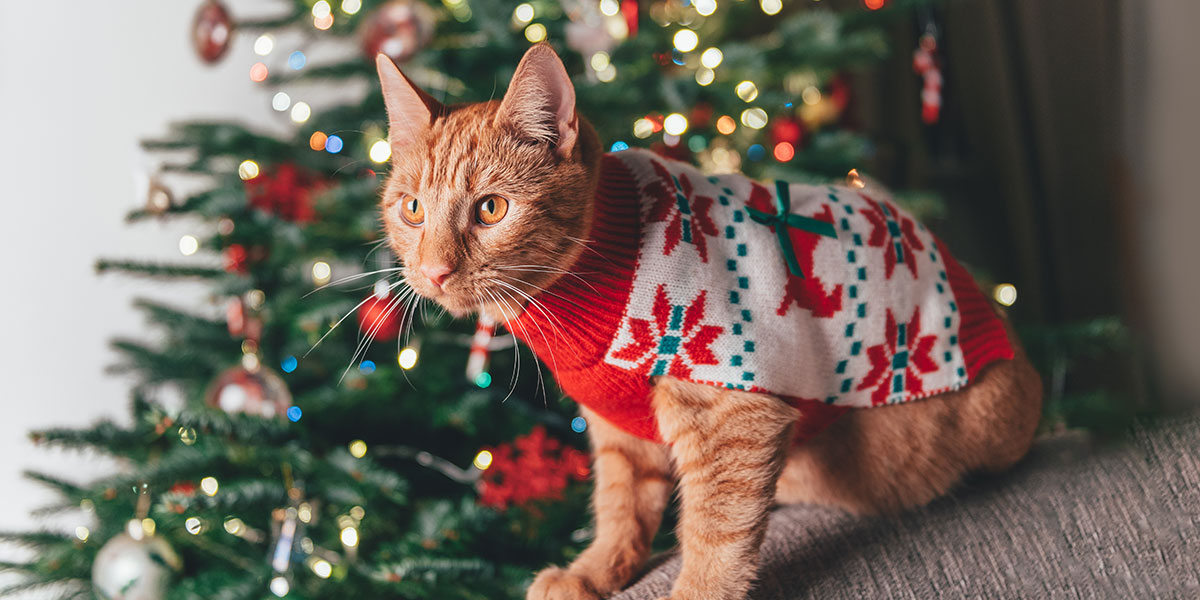 Putting a creative twist on your holiday traditions can make the experience even more enjoyable. Whether it's putting a candy cane in your mug of hot chocolate or hosting a holiday dance party, coming up with unique spins on holiday classics can help you and your family make the most of your get-togethers. The same goes for your cat – the more unique your gift is, the more likely it is that Mr. Mittens will enjoy it. Here are some examples of creative gifts for cats:
Cat Condos— For a unique gift for your cat, consider picking out a holiday-themed cat condo or cat house. Many pet retailers sell cat beds, condos and houses fit for a winter wonderland. From gingerbread houses to festive tree and reindeer-shaped products, you're sure to be able to find a cat condo that will get your cat in the holiday spirit.
Homemade Treats— Take the cat holiday gift idea of treats to the next level by whipping up a batch of your own. There are plenty of recipes out there for delicious homemade treats for pets featuring seasonal ingredients that are safe for cats. When you choose this gift, your cat will have something to munch on during your holiday meal, ensuring that they won't feel left out.
Holiday Sweaters— Check your local pet store or browse Etsy for holiday sweaters for cats. There's nothing cuter than dressing your cat up in seasonal outfits. Make sure you take pictures of your cat so you'll be able to look back on your celebration for years to come. To make the most of this gift, find matching sweaters for yourself and your cat and take next year's holiday card photo.
Seasonal Collars— Holiday celebrations are typically a time for the human guests to get dressed up. Why not include your cat in the fun? Pick out a seasonal collar for your pet so they can look their best too and celebrate in style. Be on the lookout for a collar with bells or one with a fun pattern like peppermints, snowmen or colorful lights and you're sure to have a cat holiday gift your fur baby will love.
Choose Gifts from Skoon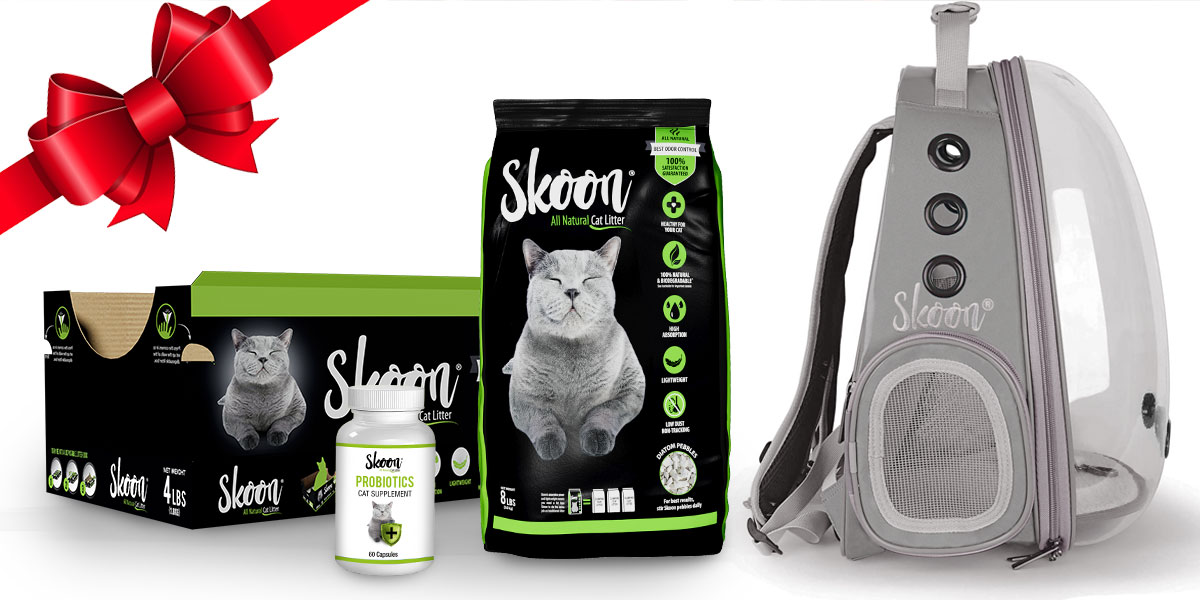 Another great category of gifts for cats is items that will improve their quality of life. As a cat owner, you want to make sure your cat is as comfortable as possible. That means doing everything you can to promote cat health and hygiene. To keep your cat happy and healthy during the holidays and beyond, consider these cat holiday gifts from Skoon:
Skoon Cat Litter— When you have a cat, it's important to have the best kitty clean-up solution possible in your cat's litter box. There's nothing worse than a litter box that stinks, filled with litter that doesn't do its job — not to mention packed with toxic additives and unhealthy ingredients. To keep your cat's litter box fresh and clean, choose Skoon cat litter. Skoon has a 100% odor-free and is non-tracking. Best of all, it's all-natural, hypoallergenic and non-toxic. Skoon litter promotes cat hygiene while protecting cat health.
Skoon Probiotics— If your cat has been suffering from uncomfortable GI symptoms like diarrhea or vomiting, Skoon Probiotics makes a thoughtful cat holiday gift. This supplement is designed to strengthen your cat's digestive system. It helps with promoting regularity, maintaining a proper balance of good and bad bacteria in the gut and reducing GI symptoms. Skoon Probiotics can also help with allergies and give the immune system a boost. To promote cat health, choose this supplement as your cat's holiday gift.
Skoon Catpack Carrier— This final cat holiday gift idea will keep your cat safe, comfortable and happy while also allowing them to explore the world. Skoon's Catpack Carrier lets you carry your cat on your back as you travel. It has an innovative see-through bubble design that lets your cat see what's going on around them, and is lightweight, well-ventilated and comes with padded straps — meaning that it's comfortable for both you and your cat. This is a great gift for cats if you want to be able to share adventures together.
This holiday season, choose gifts from Skoon to keep your cat healthy and happy!