What Can My Cat Eat on Thanksgiving?
Thanksgiving is all about spending time with the ones you love and expressing gratitude for the best things in your life. AtSkoon, we know how important your fur baby is to you and how grateful you are to have them in your life — no matter what cattitude they might show you in return.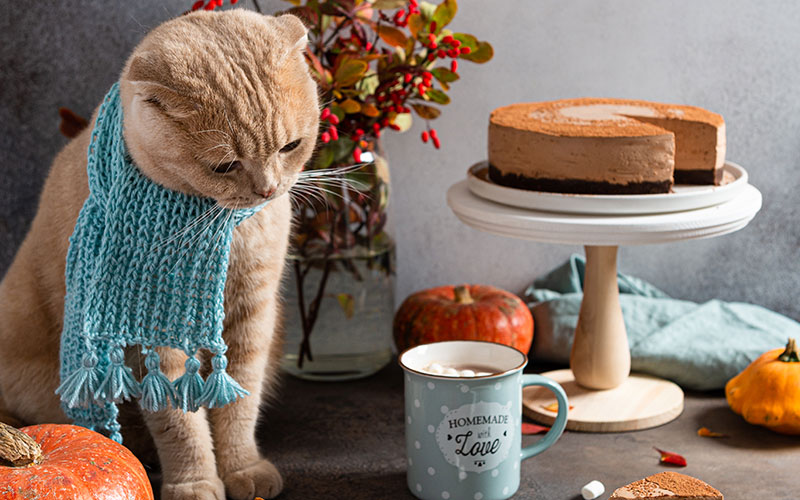 The Thanksgiving table is filled with a spread of delicious treats for you and your human guests, but it might not be obvious which items are safe for your cat to eat. To fully enjoy the celebration, make sure you know how to promote cat health and avoid any cat emergency at the dinner table. Before you extend an invitation to your fur baby, brush up on the dos and don'ts of feeding your cat on Thanksgiving.While you could just bring your cat's food bowl into the dining room while you eat, your cat is expecting a little more effort if they're going to RSVP to your dinner.Whether you will be whipping up an entire meal from scratch in your own kitchen while your cat stares at you from the top of the fridge or enjoying a long car ride filled with loud meows to spend the holiday at your cousin's house, here are some cat health guidelines you should be sure to follow at any feline feast.
General Guidelines
Here are a few key cat health guidelines to keep in mind on Thanksgiving.ModerationEven if a human food is "safe" for your cat to eat, only give them a small amount at a time. As long as you feed your cat a healthy diet the rest of the year and promote digestive cat health withsupplements or probiotics, it's okay to reward them every now and then.QualityJust like processed foods aren't that great for your health, highly- processed human foods with lots of preservatives and additives like refined sugar aren't ideal for cat health.FrequencyWhile we have to admit planning a feast fit for a feline is a lot of fun, we also know that to keep ourfurry friendsafe, and in excellent cat health, it's best only to do so every once in a while. Read the dos and don'ts of Thanksgiving food for cats so you can both be sure to enjoy this special day!
Thanksgiving Food For Cats Do's
The best way to promote cat health on Thanksgiving while including your fur baby in the festivities is to give them small amounts of the following foods. With these Turkey Day tips, it's a surefire bet that you'll be able to make up a plate that will please your cat's discerning taste buds. Better yet, you should avoid any potential cat emergency.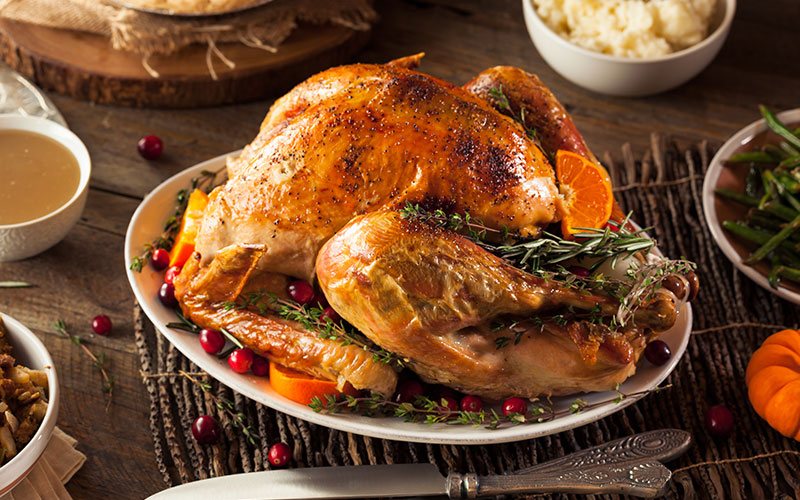 Thanksgiving Food For Cats Maybes
Some Thanksgiving treats won't threaten cat health in certain situations, while they can cause digestive upset or even a cat emergency in other cases. To keep yourfurry friendsafe this holiday, brush up on Thanksgiving dish maybes for your cat. Here are a few!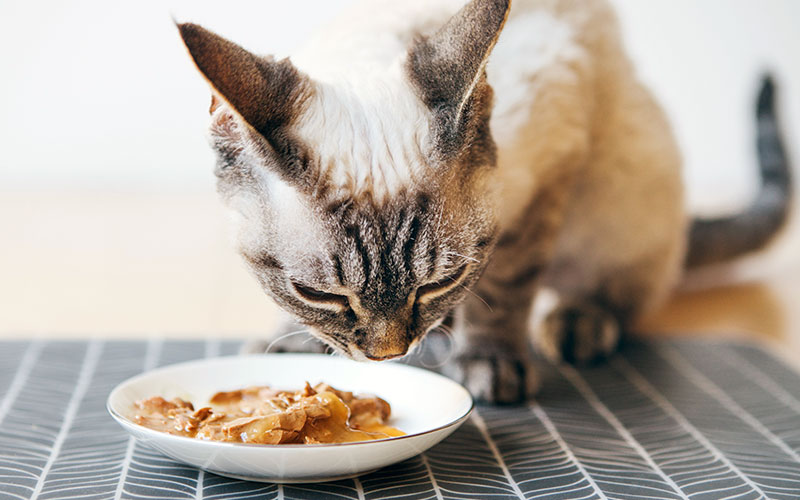 Mashed Potatoes —Mashed potatoes are a definite don't for yourpawsome palif they're made with lots of sodium and rich ingredients like cream and butter. If you know the dish has been made with minimal seasoning, or better yet, if you can snag a piece of cooked potato from the kitchen before it's been mashed and seasoned, it's probably safe to feed your cat.
Cranberry Sauce —Typical canned cranberry sauce has too much sugar foryour cat. The best option for cranberries and your cats is to give them a few plain cranberries. Raw cranberries areantioxidant and vitamin rich, and are a great way to boost your cat's health in any season!
Pumpkin —A little plain cooked pumpkin is a purr-fect fiber-filled treat for your cat. It can even helpboost your cat's digestive health. Once the pumpkin makes its way into other delicious human treats, such as pies or breads, the added fat and sugar make it a don't. Also, be sure to check the can: pumpkin pie filling with added spices and sugar isn't cat friendly, so grab a can of 100 percent pumpkin, or pick up a sugar pumpkin from a local farmer's market and bake your own!
Thanksgiving Food For Cats Don'ts
These common Thanksgiving foods are ones you should never give your cat. When planning for your Thanksgiving celebration, prioritize protecting cat health and avoiding a cat emergency by keeping these foods away from your cat.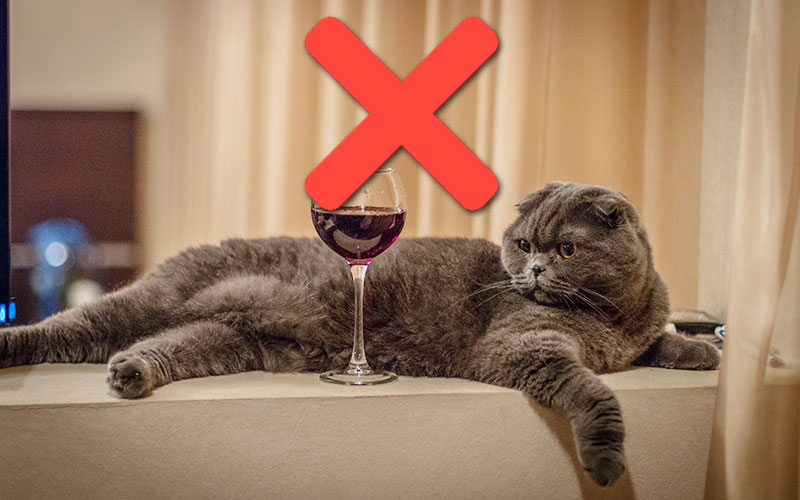 Ham —If your family has ham on the Thanksgiving table, opt for a piece of plain turkey instead when it comes to filling your cat's plate. Holiday hams are often highly salted and spiced, so they're not a good choice for treating your cat.
Onions and Garlic —Both onions and garlic are types of allium, a family of foods that cats shouldn't have, and both can cause digestive issues even in small quantities and more serious cat health problems in more significant amounts.
Stuffing —Stuffing is often laden with salt and fat, which we already know marks the sign of a bad dish for Mrs. Whiskers. Many stuffing components, including onions, garlic, raisins, and mushrooms, aren't safe for cats. Bothraisins and mushroomscan quickly lead to a cat emergency such as kidney or liver failure, so watch out for these sneaky add-ins in other dishes around the table.
Gravy —Gravy is much too salty and fatty for your feline friend, so leave it for the humans to douse their mashed potatoes and stuffing with.
Alcohol —Alcohol can cause a serious cat emergency such as a seizure or coma ifyour cat ingests even one tablespoon, so keep it far from their reach. If you want your cat to toast the season with you, find a cat wine beverage to fill their glass. Non-alcoholic catnip-based wines let your feline friend be a part of the festivities. Just make sure you don't mix up the bottles!
Desserts —Thanksgiving treats like apple and pumpkin pie are too sugary and fatty for your cat. And just like with dogs, chocolate is a threat to cat health, so keep any chocolatey dishes out of their paws.
One Last Thanksgiving Do: Skoon Cat Litter and Supplements
Finally, it's a definite Thanksgiving do to rely onSkoon cat litterfor kitty clean-up at the end of Thanksgiving day. When you want to promote cat health on Thanksgiving or on any day of the year,Skoon cat litteris the perfect choice. It's all-natural and non-toxic, so it's good for you and your cats.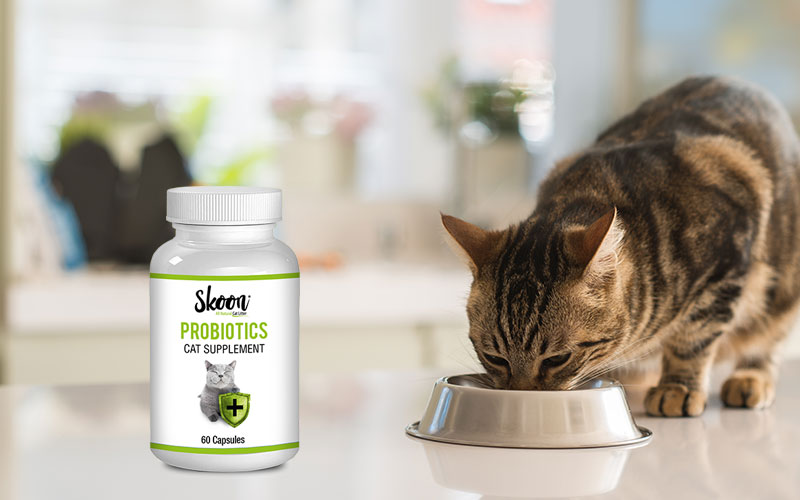 To keep your fur baby in tip-top cat health, Skoon also offers supplements includingOmega 3andProbioticsthat can give your cat's immune and digestive systems a boost after a delicious holiday meal.Skoon's litter anddisposable litter boxare the perfect, easy-to-use products to keep your home odor-free and company-ready on any holiday. This Thanksgiving, you can even put one more festive touch on your cat's special day with Skoon'slemonorlavender-scented litter. UseSkoon cat litterto take the stress out of holiday prep and clean up when it comes to your cat's health and hygiene.