Why The Best Litter Box For Cats Comes in the Mail
When you love your cat, you only want what's best for them. But that doesn't mean you have to forgo your own joy to make sure Mr. Whiskers is pleased. Forget fancy, complicated contraptions to contain his kitty tinkles but only cause you pain as you struggle to keep it clean.We'll let you in on a little secret… the best litter box for cats comes in the mail.Now that's something to purr about! But while it may seem too good to be true, in reality, a subscription service for your kitty's private business is actually one of the best cat litter hacks out there!Don't believe us? Curiosity won't kill the cat in this case. Let us tell you the amazing reasons why a subscription service like Skoon proves to be the best litter box for cats (and you!).
1. Never Forget Your Fur Baby Again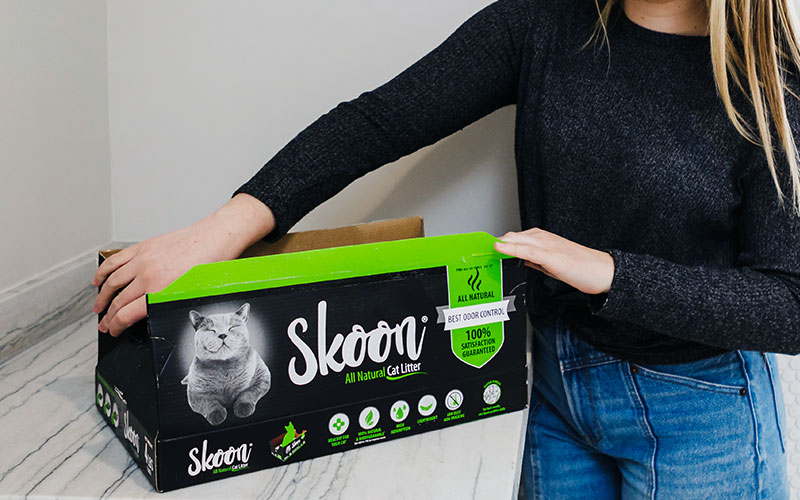 We've all been there. A busy week, month, year — especially in recent current events, sometimes it can be hard to stay on top of everyday chores until they get out of hand. Many concealed and self-cleaning cat litter boxes actually make remembering to keep kitty's space clean more complicated. Out of sight, out of mind …until your whole house smells of cat pee and no one wants to come to visit you anymore.But with a regular litter subscription service likeSkoon, you'll receive the best litter box for cats right to your door and already filled with odor-absorbing litter that'll make your life a whole lot easier. Simply close up your old box of used litter and toss! Then replace it with your new box that's ready to go. A mail subscription cat litter hack like this keeps you on schedule without stealing what's left of your precious brainpower from you. You'll never forget your feline friend's needs again!Peace of mind and manageable cat pee? That's pawsome, if you ask us.
2. Less Pain, More Gain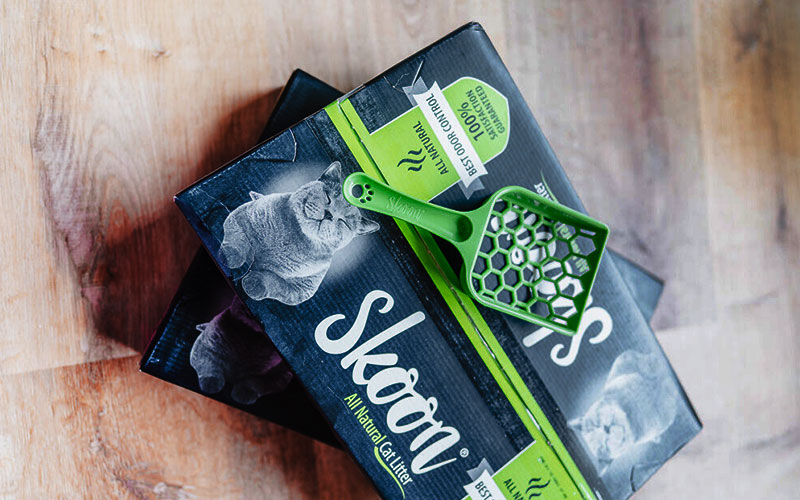 Cat litter is notoriously heavy — like it should be in the Olympics as a sport heavy. Well-meaning cat owners have thrown out their backs lugging those bags from the pet store to their cars and then to their houses (and double UGH if your kitty's litter box is upstairs!).In theory, buying supplies in bulk seems like a great cat litter hack but ultimately, it canhurt your health. Back pain or strain is a legitimate problem for many cat owners, especially those who are getting up there in age. But loving and caring for your fluffy friend shouldn't cause you pain. Forget the headache of heavy bags and enjoy the best litter for cats delivered straight to your door — purr-fectly proportioned to your cat's (or cats' plural) personal needs.Not only will you save yourself the pain of heavy litter, but you'll also have more time and energy to spend playing and cuddling with your furry friend instead of exhausting yourself with chores (as it should be!).
3. Manageable Maintenance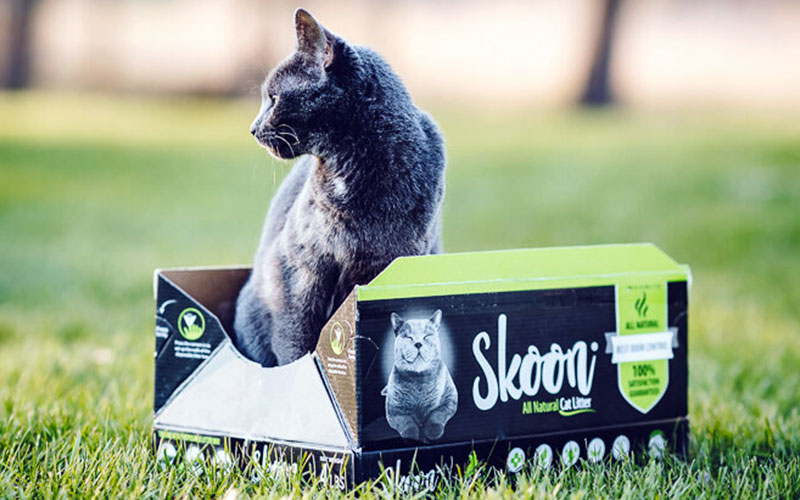 Even if back pain isn't your problem, pouring big bags of litter can get a bit messy. Most of us have experienced the annoying avalanche of tiny pebbles or clay spewing all over the floor as we attempt to change out litter for our cats. It gets everywhere and can feel impossible to clean up. That's why getting the best litter box for cats as part of your regular mail is the perfect cat litter hack! There's litter-ally no pouring at all.It's so simple it seems like a dream. Receive a box at your door, open it up like it's your birthday present and BOOM! Cardboard turns into a cat litter box your kitty will love, andSkoon'sall-natural diatom pebbles do the rest of the work!Less mess. Less stress. The purr-fect solution to all your cat cleanup woes is delivered to your door ready to go.
4. Less "Ew" With Kitty Poo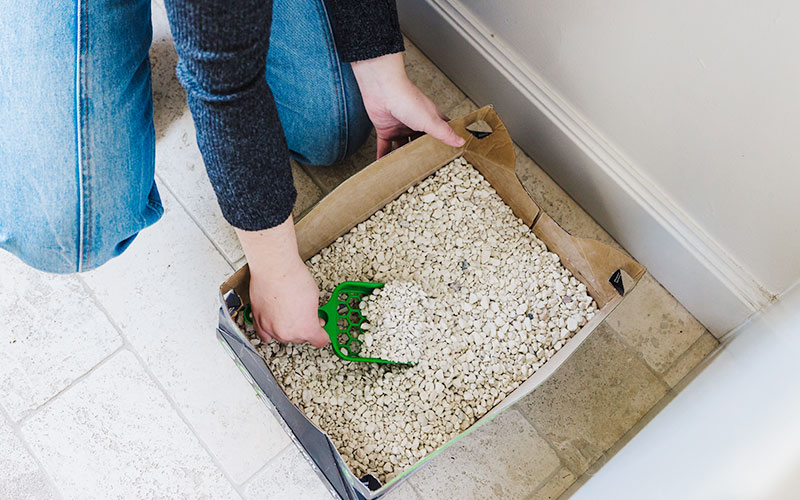 We won't beat around the bush. Cleaning out the cat litter box is no one's favorite chore. It can be stinky, messy, and just generally the least fun part of owning a cat (though they at least make it worth the work with the cuteness).But what if we could take the yuckiness out of kitty chores? That would revolutionize cat ownership entirely and just make life more pleasant overall. The best litter box for cats does that, and it is because of how it comes in the mail.WithSkoon, our subscription mailed litter box may be cardboard, but paired with the all-natural diatom pebbles that have super odor-absorbing powers, you'll virtually never smell your kitty's stink again. Getting your kitty litter box in the mail makes everything more manageable and less smelly. Your cat and your nose will thank you.
5. Better For Mother Nature
The best litter box for cats comes in the mail — not only for your convenience but also to save the planet. That's right! When you invest in an all-natural cat litter like Skoon, the inherentlybiodegradable propertiesof both the cat litter inside and the litter box packaging are basically making you a hero in the fight to save the planet. Easier for you and better for the Earth? Hardly any other cat litter hacks come close!
6. Fun for the Whole Fur Family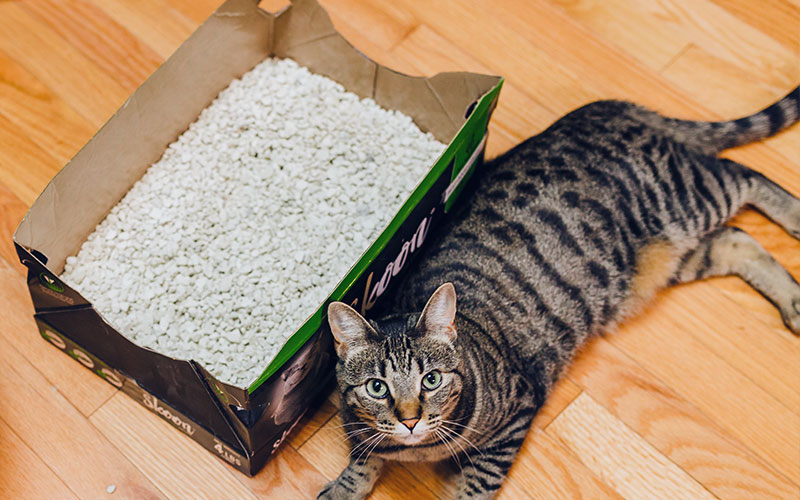 Who doesn't like getting mail? There's just something special about a periodic surprise waiting for you, even if it's a ho-hum necessity that lacks pizzazz. But if you can getyour razors, snacks, books and clothes in a subscription serviceto make your life easier, why not add your favorite fur baby's supplies to the mix? Not only is it easier for you, but your kitty will also love how on-schedule the cleanliness of her box is.A mail subscription for your litter box is the simplest and easiest cat litter hack you could try. The best litter box for cats will never cause you pain or steal your joy.So next time you begrudgingly head to your pet store to carry a heavy bag of cat litter and pretend it counts as your weight lifting day, remember life could be a whole lot more fun. You're not just tricking your brain into thinking it's a gift in the mail — it really is a gift of convenience. And hey! With all that time you saved, you could actually head to the gym and lift real weights. Or, you know…cuddle your cat in front of Netflix.
Skoon is Here to Help
When our super kitty litter scientists discovered how amazing diatom pebbles were at absorbing kitty stink, we knew we unlocked a secret that would revolutionize cat ownership.AtSkoon, we believe that you should love every minute of your time with your furbaby, so why waste a moment of unpleasantness caused by the everyday care of a cat litter box? That's why we turned Skoon into a mail subscription service. We wanted to make the best litter box for cats easily accessible to everyone.So ditch the expensive, costly litter boxes that still make kitty clean-up more complicated than it should be and enjoy the simplicity of a cardboard box that contains all-natural cat litter you and Mr. Whiskers will both love.