Can You Match This Celebrity With Their Cool Cat Names?
It's true: Celebrities love their cats just like us! Thanks to cat lovers like Taylor Swift, being a cat lady (or whatever else you want to call it) has never been cooler. Similarly to how we look to celebrities for the latest in fashion, beauty, and culture, we can also look at the cool cat names they've used for significant inspiration.Some of them take an unconventional, quirky route, like naming them after a popular game day food. While others go for pop culture references (we're looking at you, Taylor), and several take a more classic approach with regal and botanical-inspired names. However, all of these cat names are way more unique than popular monikers like Kitty, Luna and Bella (no offense, of course).Here, test your celebrity knowledge by matching the A-lister with the appropriate cat name. Then, write down your favorites in case you add a new feline to the mix and need some help coming up with a name that's cool but still seriously cute.
Taylor Swift

Singer/songwriter Taylor Swift has three Scottish Folds, all named after well-known TV and movie characters — two female, one male. Her cats often appear on her Instagram and even made an appearance in a Coca-Cola commercial. They even found a way to get involved in Taylor's music: While recording Folklore and Evermore, Taylor revealed to Jack Antonoff that the "cats were fighting on the bed" in "Kitty Committee Studio," making it her "favorite recording experience."In an episode of Live With Kelly and Michael, she spoke about the "two loves of her life" (this was before she added a third to the bunch). Here, she commented on how her oldest cat let fame get to her head: "I post pictures of her on Instagram and stuff, and she was a really beautiful kitten, so she became named like the year-end top celebrity pet. On some level, she knew because she changed after that."
Taylor's Cool Cat Names: Meredith Grey, Olivia Benson and Benjamin Button
Kate Beckinsale

Actress Kate Beckinsale puts her two Persian cats on full display in Instagram videos, especially throughout quarantine. "I'm very much a cat person. Cats are easier than dogs because you don't have to walk around with a bag of poo like you do with a dog, which I hate to walk around with a bag of poo," she told People back in 2019.Her two cats, which bear more classic cat names, have wildly different personalities: One is "more of a handful" than the other, who is happy as long as he has "suitcases and boxes and bags, if you bring home a pair of sneakers or a takeout bag."
Kate's Cool Cat Names: Clive and Willow
Kat Dennings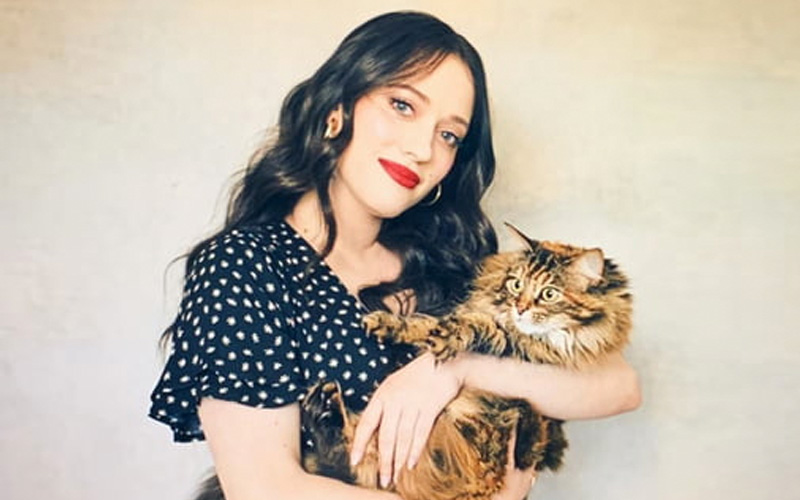 Actress Kat Dennings tried to change the cat lady narrative in Hulu's Dollface, but in real life, she's as cliche as it gets."I am the person who just does not want to go out. I just want to stay home and like, play with my cat," she told Nylon. She's a big fan of cat bearding, which is basically the act of holding your cat's face up to your own to create a furry beard of some sort. Her cat, however, wouldn't cooperate, as shown with several failed attempts on a segment of Conan.
Kat's Cool Cat Name: Millie
Alison Brie and Dave Franco

Celeb coupe Alison Brie and Dave Franco are proud cat parents. "We are like major cat people. Our favorite thing is to triple spoon with our cat — Dave then me, then the cat," Alison gushed on The Kelly Clarkson Show. Shortly after their cats (Dave's, actually) Harry and Arturo passed away, the couple adopted two kittens at the start of quarantine."They love us. Are you kidding? They're obsessed with us; they've known nobody else. They're very co-dependent," she said during an interview on The Late Late Show With James Corden. They even have a designated room in their house for the cats to play, eat and sleep. "The cats have their own room, and in the cat room, it's solely decorated with these really terrible paintings, watercolors of cats in outfits that my best friend from college sends me every year from Orlando, Florida," she told Architectural Digest in 2018.
Alison and Dave's Cool Cat Names: Otis and Maxine (goes by Max)
Drew Barrymore

Actress and host Drew Barrymore has a furry #GirlGang of her own (her words, not ours). A few years ago, she adopted three female cats: one for her, one for her daughter Frankie and another for her daughter Olive. "If you can believe, my daughters and I went to rescue a cat and came home with three kittens in need," she wrote on Instagram. She later called herself a "crazy cat lady," implying that she let her daughters help pick out the cat names.
Drew's Cool Cat Names: Fern, Lucky and Peach
Bobby Flay

Renowned chef and Food Network star Bobby Flay appropriately named his 20-pound Maine Coon cat after the thing he loves most: food. Despite growing up in a cat-loving household, he spent much of his adult life (three decades, actually) without a cat."I often wonder if I wasted three decades without a cat roaming around my home, especially when I look into [my cat's] eyes and I can almost hear his thoughts. He knows when I'm feeling a little under the weather or I'm having a case of the blues. He makes me a softer and more understanding person just by his presence," he told CBS Sunday Morning.The two have actually gone into business together, launching a cat food brand that his feline actually likes. "While many know I am passionate about cooking, I am equally as passionate about the cats in my life. While I influence the recipes, [my cat] does the hard work of creating the menu and paw-selecting every ingredient," he said during the brand's launch. "
Bobby's Cool Cat Name: Nacho
Ian Somerhalder

Lost star Ian Somerhalder met his cat on set back in 2004 during an early morning shoot. "Our second AD came up to me with this little orange kitten who had been trying to climb into the catering truck and kept throwing him out," he recalled in an interview with TODAY. Later in the day, he took him down to the beach in hopes that he'd be reunited with his family, but instead, he realized just how much the two of them needed each other."He sat right next to me and laid down. He looked up to me and I just thought, 'This is my kid. I'm taking him home.'" In the 15+ years that he's been a cat dad, Ian has learned an important thing about cats — and people, really: Cats don't really need you. When they want love, they'll come to you, which is really how people are."
Ian's Cool Cat Name: Moke
Ellie Goulding

Singer Ellie Goulding never thought she'd be the type to post cute cat pics all over her Instagram, but then she met her two furry family members. "I never thought I was gonna be one of those people who was gonna post photos of a lot of animals, and now I am. I'm Catwoman," she joked on The Ellen DeGeneres Show. Over the years, she's proudly posted her cats, even making them a part of her annual Christmas video.
Ellie's Cool Cat Names: Lennon and Wallace
If you want to give your kitty a cleaner, better cat litter option, get started with Skoon. We offer a variety of non-clumping scents, ideal for kittens and multi-cat households.