Celebrate Halloween with Kitty Costumes and Cat Poop Dessert Recipes
Of course, you love your cat (What isn't there to love?). So naturally, you want to celebrate Halloween with your favorite little goblin. Looking for ways to amp up your holiday with spooky details that are sure to impress your fellow cat-loving friends? We've got you covered with adorable kitty costumes and cat poop desserts that are sure to be showstoppers.After all, nothing is scarier than cat poop, but with these delicious ingredients, everyone is guaranteed to enjoy your Halloween dessert contributions at any gathering or party.Let the freaky festivities begin!
Cat Poop Dessert Inspiration
You deal with kitty litter pretty regularly; it seems like the perfect inspiration for a frightful and festive treat that's also a trick. Wow your guests with either of these culinary crap creations, and they'll be howling with laughter at the full moon.
Kitty Litter Dessert Cake:
They say that when it comes to food, presentation is everything. With this dessert, your presentation also doubles as a Halloween decoration. It could even be your centerpiece for your snack table.This cake is disguised as a full-on kitty litter box (cat poop included). However, your Halloween guests will be delighted and in awe of just how delicious this deceiving dessert can be.With only six delicious cake cat litter ingredients, this dessert is easy enough for anyone to make! The secret? The cat poop is actually made from melted and hand-sculpted Tootsie Rolls (who knew?).Don't forget to serve it up in a "real" litter box with a cat poop scooper! AKA — a cardboard box and a cake server. Yum!Check out this recipe fromAll Recipesbelow:
Ingredients:

1 (18.25 ounce) package German chocolate cake mix
1 (18.25 ounce) package white cake mix
2 (3.5 ounce) packages instant vanilla pudding mix
1 (12 ounce) package vanilla sandwich cookies
3 drops green food coloring
1 (12 ounce) package tootsie rolls

Serves 20.
Cat Poop Cookies:
Prepare and bake individual cake mixes according to package directions (pan size does not matter).
Prepare pudding mix according to package directions. Place in the refrigerator to chill until it is set and you are ready to assemble.
Crumble sandwich cookies in a food processor or in a Ziploc bag and rolling pin. Set aside all but 1/4 cup. Add a few drops of green food coloring to the ¼ cup and mix thoroughly.
When cakes are room temperature and cool to the touch, crumble them into a large bowl. Toss with 1/2 of the remaining cookie crumbs and the chilled pudding. You want the cake to be just moist, not soggy, so don't use all the pudding if it gets too goopy.
Line the kitty litter box with the kitty litter liner or foil. Scoop cake mixture into box and smooth.
Take half of the unwrapped tootsie rolls and place them in a microwave-safe dish. Heat until softened. Shape the ends so that they are no longer blunt, and curve the tootsie rolls slightly (this will be your cat poop, so put your litter box cleaning knowledge to good use). Bury Tootsie Rolls randomly within and on top of the cake and sprinkle with half of the remaining cookie crumbs.
Hang the remaining tootsie roll over the side of the litter box and sprinkle with the remaining green cookie crumbs.
Not a fan of Tootsie Rolls, but still want a cat poop dessert? We've got your back. This kitty poo concoction is sure to be both a treat and a trick. These cat poop cookies are sure to please while still being hilariously gross.Check out this recipe fromSweetDreamsAndSugarHighs.combelow:​
Ingredients:

¼ cup butter, softened
3 oz cream cheese, softened
1 egg
1 package of chocolate cake mix*
White Sparkle Gel
Chopped peanuts and mini chocolate chips (optional)
Directions:
350 degrees.
Blend the butter, cream cheese and egg together in a bowl.
Add the cake mix to the bowl and blend well.
Take a tablespoon of dough and roll it into a log shape.
If using peanuts or chocolate chips, roll log into those now to roughly coat outside.
Form log into a spiral poop shape and place it on an ungreased cookie sheet.
Refrigerate the pre-baked cookies for about 15 minutes.
Bake for 7‐9 minutes.
Cool completely before removing cookies from the pan. If desired, brush sparkle gel all over cookies with a pastry brush.
Still want the kitty litter box look? Crush up graham crackers and coat the bottom of a litter box or cake pan. Place cookies on top of the graham cracker crumbs to serve.
Picking the Purr-fect Cat Costume:
What would Halloween be without dressing up for the holiday with your furry bestie? Here are some of our favorite kitty costumes you may want to try out with your feline friend.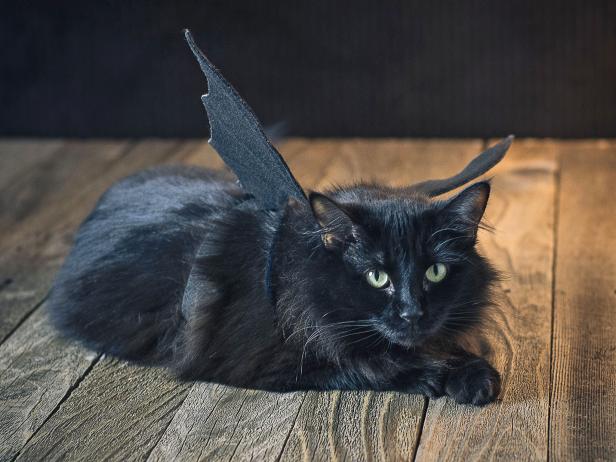 Have a black cat who is ready for a spooky make-over? Consider adding bat wings. Buy a simple harness costume or make them yourself!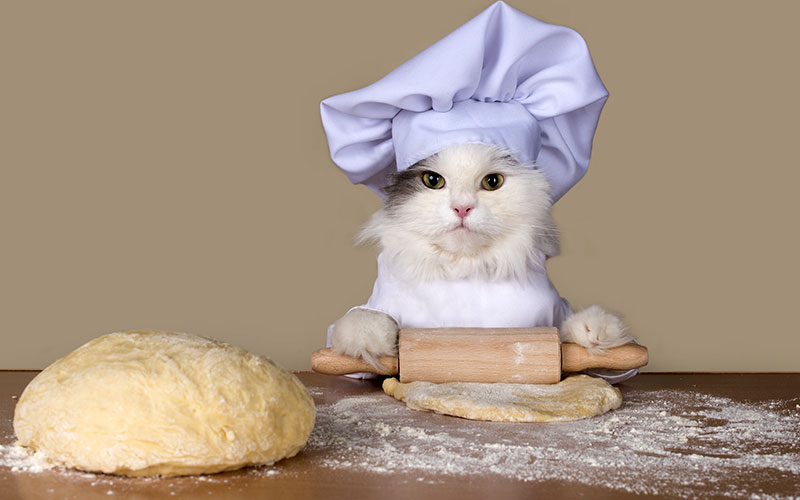 What's cuter than a little chef? Add a red bandana and a little white chef's hat. Easily purchase the pieces or make them yourself! For added cuteness, consider adding a mouse silhouette to the hat for some Ratatouille vibes.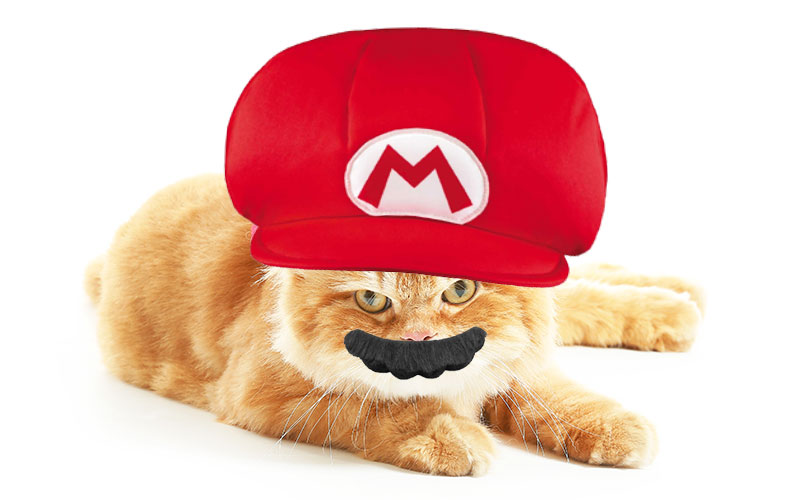 Who doesn't love a mini Mario? This is extra cute on those furry felines with markings that look like mustaches. Simply add the iconic hat.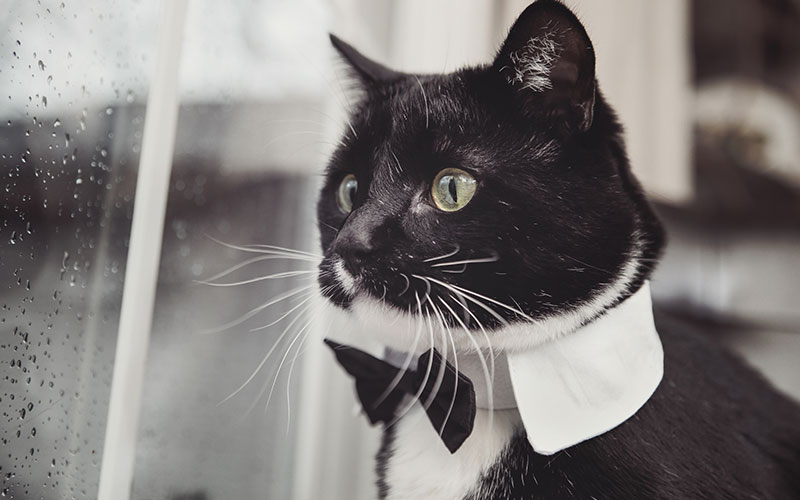 Make your kitty look extra dressed up by cutting off a button-down sleeve and making lit look like a dress shirt color. Your cat could be a spy, butler, or anything else you imagine. It's simple to make and comfy to wear.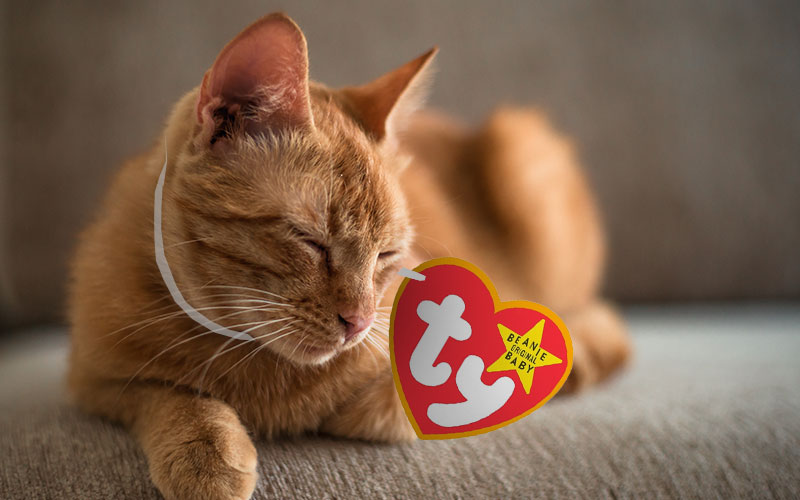 This is the cutest and easiest cat costume you could imagine. Simply make a DIY TY tag and transform your cutie pie into a Beanie Baby straight out of the 90s!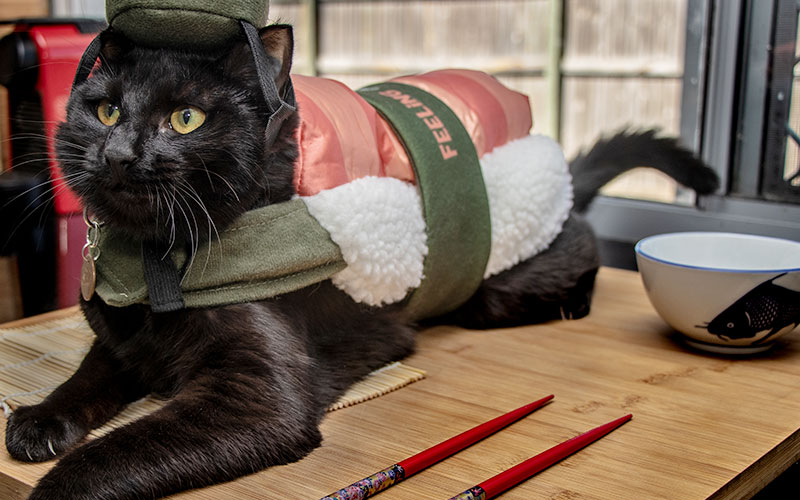 Turn your kitty into your (and probably their) favorite food with a sushi costume. While we're sure the crafty people out there could whip up a fabulous DIY version, here's one you can buy.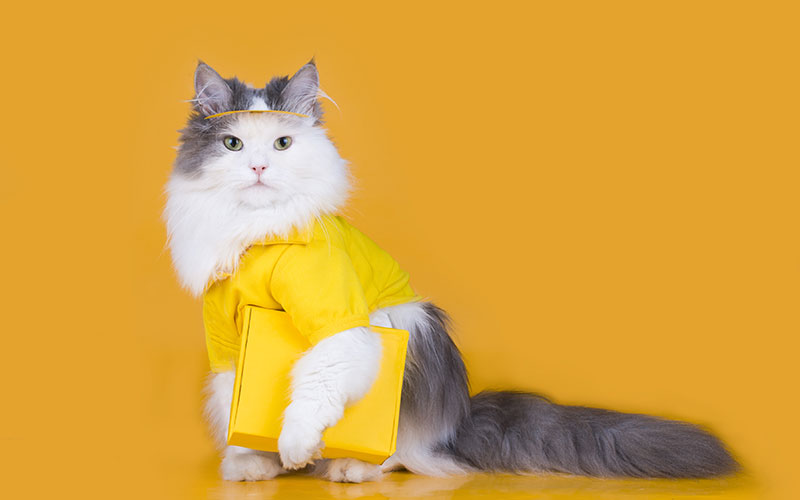 This is a hilarious approach to costuming. Buy one of those cat costumes that only attaches at the head and front paws, giving the appearance that they're a two-legged walking person. These delivery cats pull it off purr-fectly.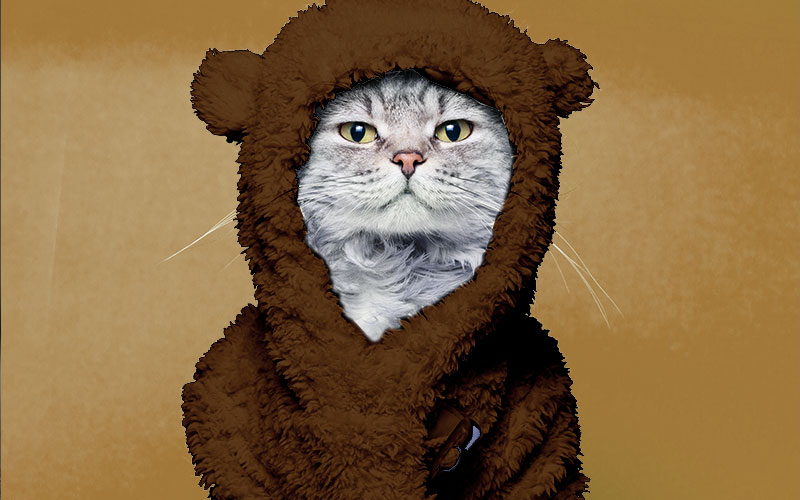 This idea is a sure win for Star Wars fans. Dress your favorite four-legged creature like an Ewok for an adorable addition to any Star Wars-themed family costume.
The Purr-fect Couple's Costume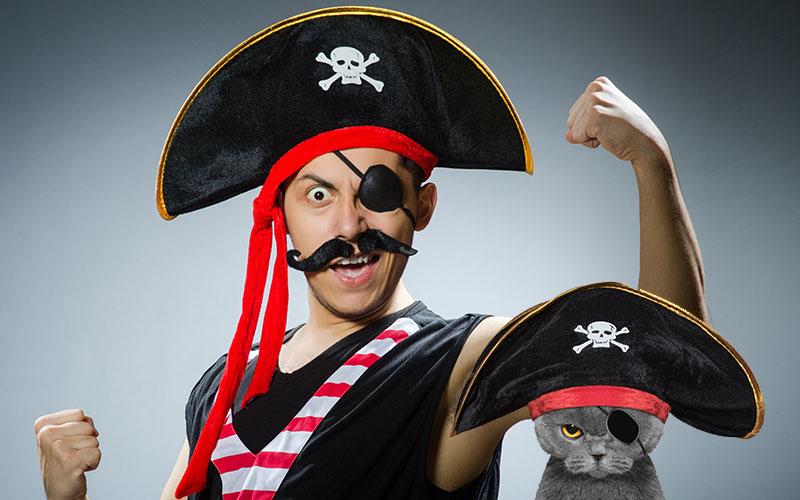 Want to be extra cool with the perfect couple's costume for you and your cat? Dress up as each other. You could wear a cat costume in the coloring of your favorite pet while your cat dresses like you. It's bound to be a hilarious conversation piece at the Halloween party you're hosting.
Don't Let The Litter Box Scare You This Halloween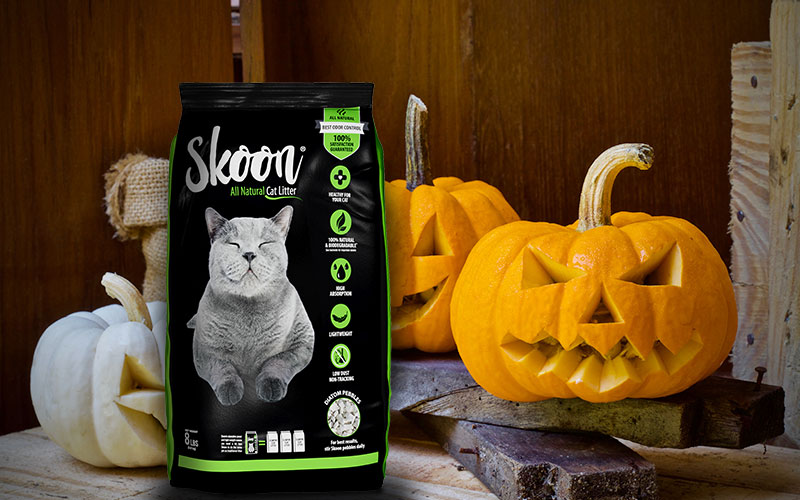 While Halloween is all about embracing the scary, rest assured that Skoon has taken the horror out of kitty litter maintenance and turned it from trick to treat. Taking care of your cat's business has never been easier (or less stinky), thanks to Skoon and the revolutionary diatom pebbles that lock in odors before they get a chance to smell. Simply scoop out the solids, stir the pebbles for maximum freshness, and toss when your next shipment comes straight to your door.
It's so easy; it's scary.Get Skoon today!