Cute and Funny Ways to Take Pictures of Your Cat This Thanksgiving
There are only so many ways to keep yourself entertained during holiday downtime. If you're a cat lover, that means checking TikTok for funny cat videos and visiting Instagram for updates on your favorite pet influencers. If you get tired of scrolling through fall-themed cat memes, there's a solution for your boredom: taking fun pictures of your own cat.If you've been searching for a new Thanksgiving tradition that you can share with your fur baby, Thanksgiving cat pictures are the solution you've been looking for. Taking cute and funny photos of your cat is sure to become a cherished activity you look forward to each year.Read on to browse our best ideas for cute and funny ways to take Thanksgiving cat pictures this year.
Funny Picture Ideas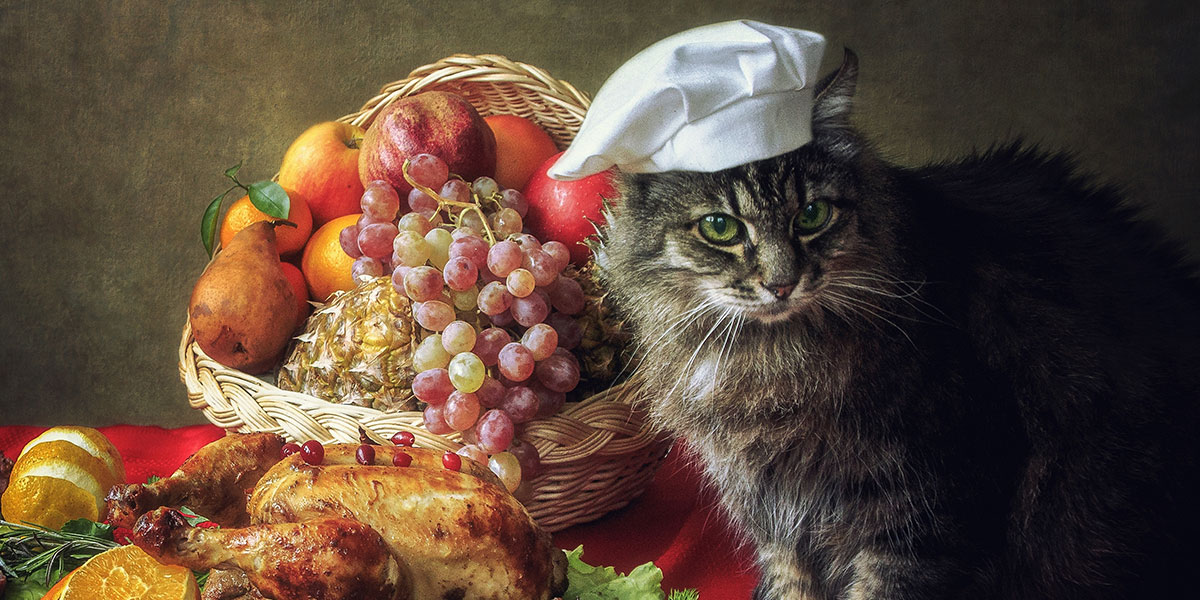 The more creative you can get with your Thanksgiving cat pictures, the more joy and laughs you'll be able to spread this holiday season. When you choose to take funny photos, you're sure to create memories that will last for a long time. Here are just a few ideas for funny Thanksgiving cat pictures:
Wishbone Toy— It's a Thanksgiving tradition to pull apart the wishbone from the turkey and try to get the bigger half to earn a holiday wish. While it's not a good idea to play with an actual wishbone with your cat since it's a choking hazard, you can still stage a fun feline-friendly photo. Find a wishbone toy made for pets and pose with your cat as if the two of you are pulling it apart.
Matching Aprons— Anyone who has hosted Thanksgiving dinner can tell you that it requires a lot of prep work. If you're making a Thanksgiving feast this year, there's plenty of ways to take funny Thanksgiving cat pictures in the kitchen. Dress yourself and your cat in matching aprons and take pictures as if you and your furry sous-chef are rolling out pie crust, mashing potatoes or carving the turkey.
At the Table— If you want a Thanksgiving cat picture that's both funny and adorable, take a picture of them at the dinner table. Set your cat a place complete with a placemat, utensils and a plate. You can even stage it with a few bites of Thanksgiving foods that are safe for cats. If you want to add an extra festive touch to the photo, fill a wine glass with cat wine. Just make sure to keep the real alcohol away from your pet. A picture of your cat seated at the Thanksgiving table enjoying their very own feline-friendly feast is sure to be amusing.
Cat Thanksgiving Costume Ideas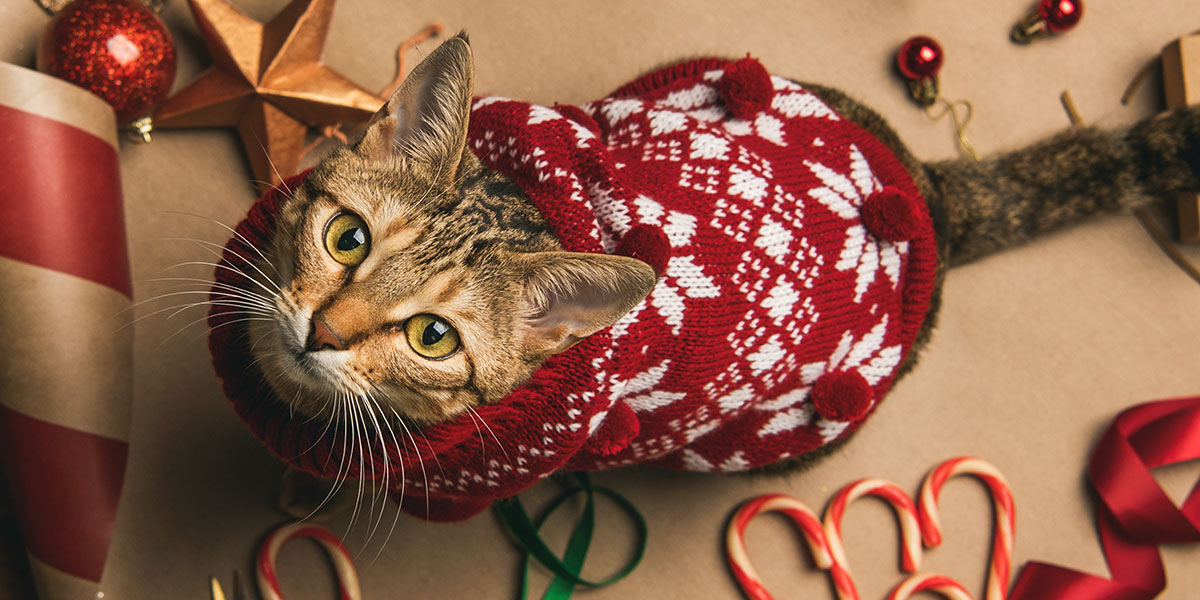 A surefire way to create Thanksgiving cat pictures that won't disappoint is to put your feline friend in a cat Thanksgiving costume. There's nothing like an adorable outfit to put a smile on your face and make your cat look even cuter than usual. Here are some of the best cat Thanksgiving costume ideas to try this year:
Turkey Hat— What could be a better cat Thanksgiving costume than a turkey hat? If watching the Thanksgiving episode of Friends is one of your annual traditions, you know how amusing it can be to see someone with a turkey on their head. It's guaranteed to be even funnier when the hat is on your cat. Check Etsy or online pet shops to find the perfect cat Thanksgiving costume to pull this idea off.
Pumpkin Pie— If you want a cat Thanksgiving costume that will get plenty of laughs when you share it with your family and friends, find a pumpkin pie costume for your pet. Your cat's adorable face poking through a slice of pie is sure to make you smile. This is a great way to honor your favorite Thanksgiving dessert while also having fun with your cat.
Festive Bandana— If your cat detests costumes, there's a good chance they'll still let you put them in a bandana or bowtie. Add a festive flair by looking for fall colors like orange, yellow, red and brown. Or, pick a Thanksgiving-themed pattern featuring plaid, leaves or fall-colored pawprints.
Matching Sweaters— Who said ugly sweaters were just for Christmas? There are plenty of fall-themed sweaters to be found online — for you and your cat. Dress up in matching sweaters and take cute family photos with your cat. You'll cherish these Thanksgiving cat pictures for years to come.
Cute Outdoor Picture Options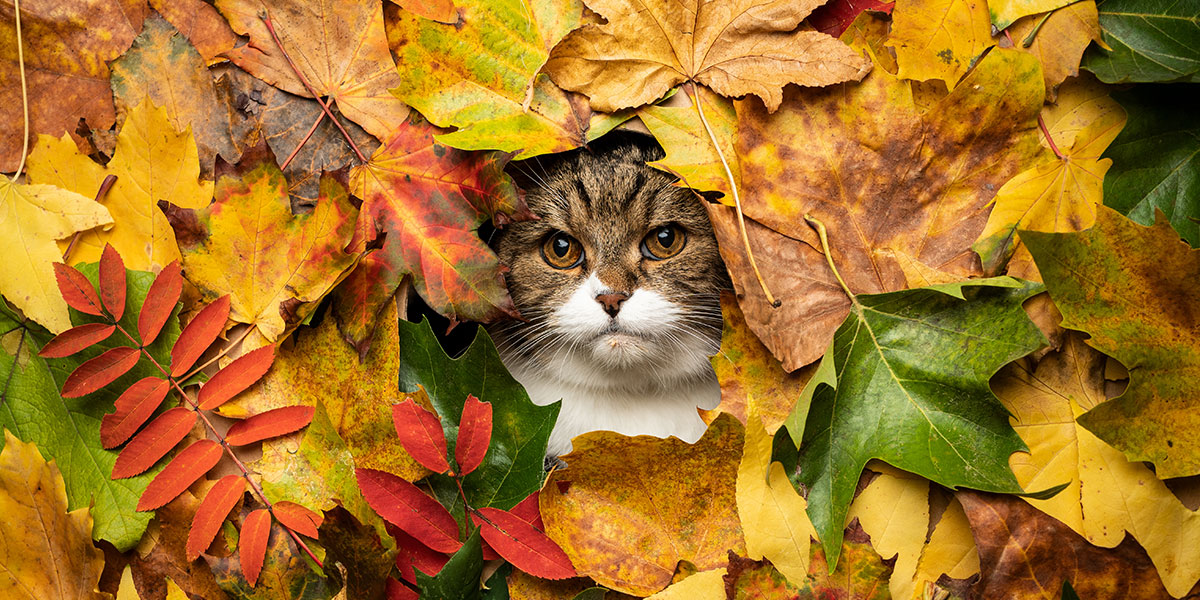 Make the most of the Thanksgiving holiday by getting outside to enjoy the seasonal weather and take advantage of the scenery. Take in the crisp fall air as you snap cute cat Thanksgiving pictures. If you have an outdoor cat, this is a good way for the two of you to spend some refreshing time outdoors. These are some good options:
Pile of Leaves— Rake together a small pile of leaves and have your furry friend sit in them. If you get lucky, your cat might decide to jump in and out of the leaf pile or bat at the leaves, making for some adorable Thanksgiving cat pictures.
Pumpkins— If you have pumpkins leftover from Halloween, they make great fall photo props. Having a tiny kitten sit on top of a huge pumpkin is one way to make a memorable Thanksgiving cat photo.
Hiking Picture— Exercise is a healthy addition to any Thanksgiving day. Consider taking a hike with your cat this Thanksgiving. This will allow you to spend some quality time together, and you can take a selfie with your cat on the trail. Pick a hike that leads to a scenic outlook and you'll have the perfect backdrop for a Thanksgiving cat picture.
To make sure your cat is both safe and comfortable on the hike, bring along the Skoon Catpack Carrier! The design of this carrier features a clear protective bubble that will let your cat enjoy the view as you hike. It's well-ventilated and lightweight — designed with the comfort of both you and your cat in mind.There are plenty of ways to add extra enjoyment to the holidays this year while spending time with your cat. Take cute and funny Thanksgiving cat pictures that are guaranteed to give you some much-needed laughs. And, for a healthy twist, you can stay active and enjoy the outdoors with your pet this holiday season with the Skoon Catpack Carrier!Sources:https://www.thedodo.com/dodowell/thanksgiving-cat-outfithttps://www.cascadekennels.com/thanksgiving-activities-pets/https://www.keepingitpawsome.com/petsgiving-photos-to-make-you-laugh/